British renewable energy company Octopus Energy has unveiled a smart home heating system called Cosy Octopus, billed as the "next stage in smart heat revolution."
The system, unveiled last week at the Wired & Octopus Energy Tech Summit in London, consists of a new heat pump, home control system, room sensors – known as "Cosy Pods," and a bespoke smart tariff.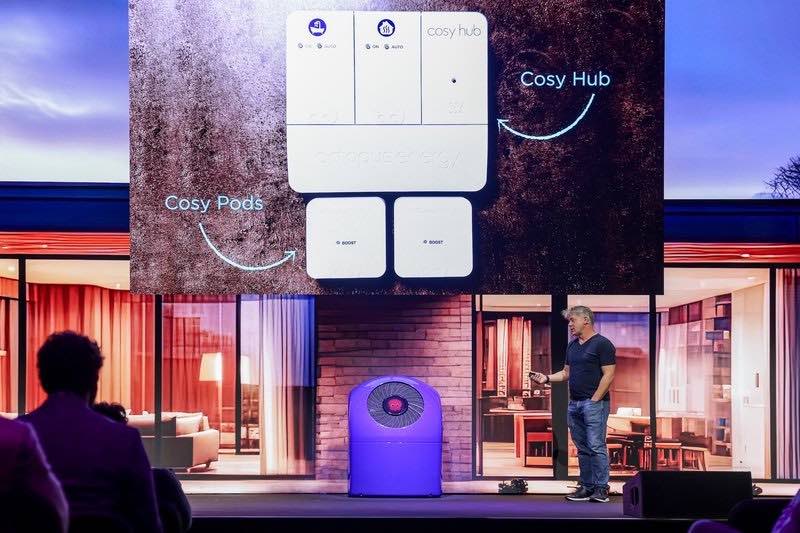 As this Conversation article explains here, heat pumps use the same technology as refrigerators, which has been around for over 200 years. They provide heating to six out of every 10 homes in Norway.
They're a hot topic in the UK, as it seeks to retrofit all homes to net zero standard by 2050 – which essentially means replacing all of the country's existing gas "boilers," mostly with heat pumps.
The target rate is 600,000 a year by 2028 – but that's going to require a massive effort from the market, considering that in 2022, fewer than 60,000 heat pumps were installed.
The Cosy Octopus hits the scene ahead of the coming northern hemisphere winter, when the focus will once again turn to finding lower-cost and cleaner ways to keep households warm and comfortable.
It is the company's first heat pump built entirely in-house and was designed by Dr Jason Cassells, CEO of the now Octopus-acquired Renewable Energy Devices, now known as Octopus Heating. It is manufactured in Craigavon, Northern Ireland.
The system is specifically designed for the UK market and is free for homes that don't need any work to fit the system after the Boiler Upgrade Scheme (BUS).
Homes that do need adjustments – such as new radiators, piping, or a hot water tank – can get the system from around £3,000 after the grant.
The initial 6kW heat pump, designed to suit the average three bedroom house, will be followed by larger models to be unveiled over the next six months.
"This is a huge day for clean heating," said Greg Jackson, founder and CEO of Octopus Energy Group.
"This paves the way to heat pumps for everyone.
"The combination of a high-temperature heat pump (as hot as a gas boiler), Octopus smart tariffs, and room sensors across your home doesn't just open up cheaper clean heating – but more comfort too."