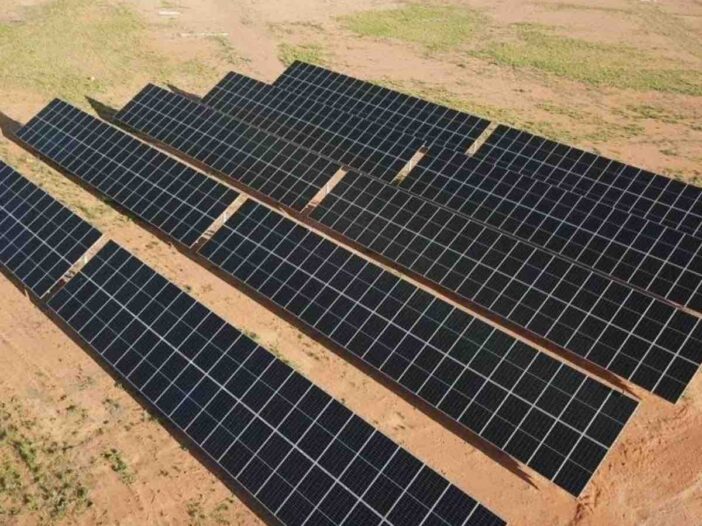 Reputed to be the smallest town in South Australia, William Creek is a tiny populated speck within the vast Anna Creek Station, a cattle ranch larger than the entire country of Israel, thought to be the biggest of its kind in the world.
The town has a permanent population of between ten and fifty people, though its numbers swell with the thousands of tourists who pass through each year on their way from Coober Pedy to Lake Eyre.
Now, the town has a new claim to fame as possibly the first Australian town to be fully powered by solar (though the coastal WA town of Onslow, population 848, made headlines when it was powered 100% by solar power for 80 minutes in 2021).
William Creek, situated nine hours north of Adelaide, has for decades had to rely on supplies, including food, fuel and beer, delivered by road. But in 2022, the town commissioned My Energy to supply it with a 200 kW, 330-strong array of solar panels, as well as 280 KWh of storage using Pylon Technologies US5000 batteries.
In total, the power system consists of: 135kVa of Victron Energy Quattro Inverters, 200 KW of Trina Solar Modules DC Coupled using Victron 450/200 Smart Solar Chargers and AC coupled using Fronius International ECO Inverters, a Victron Cerbo GX for remote monitoring and control, 280kWh of storage, all cooled by Daikin Comfort split systems and built into a 40' container.
Now, the town is fully self-sufficient, at least as far as energy is concerned.
"It's a no brainer," said Trevor Wright, the town's tourism operator, in an interview with 7NEWS Australia. Wright says more outback towns and stations will be looking to make the move thanks to the last few years of oil price insecurity.
"A lot of the stations are definitely coming on board, I think with the price of oil and where it's gone in the last few years, as everyone knows when they drive a vehicle, it's become a real issue."
The remoteness and harsh conditions of outback towns and stations pose unique problems for energy reliability and grid stability.
In May 2022, researchers from the Northern Territory's Charles Darwin University (CDU) announced they would begin using a microgrid simulator to investigate how the Central Australian town of Alice Springs could shore up its energy security by integrating more renewable energy, including solar PV and battery storage.
Meanwhile ARENA's $59 million Solar Energy Transformation Project (SETuP) has been working to power remote and off-grid NT communities with solar arrays, its remit spanning an area from the Tiwi Islands to the South Australian border.
At the smaller scale, cattle and sheep stations are increasingly recognising the value of renewable energy systems to keep them powered on.
Mandora Station, a remote, family-run cattle station between Port Headland and Broome in Western Australia, made the switch to solar to fend off soaring diesel costs.
Their system was installed by local renewable company Gen Off Grid, which fit 96 435W panels with 31kW of solar generation capacity, as well as 56kW of battery storage capacity, on the sprawling 94,000-hectare property.
In 2020 the owner of Yallalong Station, Lyndon Brown, also decided to cut energy costs at his off-grid station northeast of Geraldton, WA, by switching to a 9.5 KWp solar array, supported by four Redflow ZCell zinc-bromine flow batteries. That switch, as well as providing reliable power, will reportedly save the station as much as $10,000 a year in diesel costs.
"If you want people to live out there in those isolated places, you do need 24-hour power to run all your fridges, air-conditioning and comforts of life that they expect," Brown said at the time.