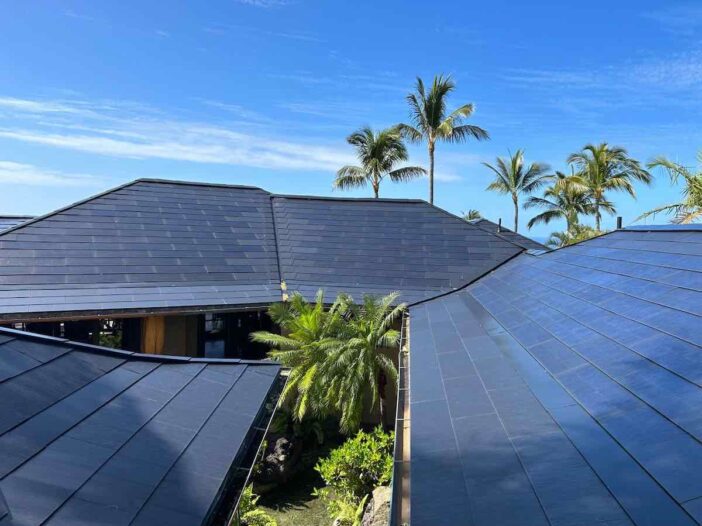 A massive Tesla solar roof installed at a home on the Big Island of Hawai'i will reportedly generate its owners $US350 per month in grid power supply and services revenue, or around $A525.
Joti Mangat, the chief revenue officer of Hawaii-based solar company Rising Sun Solar, showcased the recently completed roof – made up of 50kW of Tesla's solar glass shingles – on LinkedIn earlier this month.
Mangat says the strapping solar roof, backed by no less than six Tesla Powerwalls, will earn the household $US350 a month from the Swell Energy Home Battery Rewards virtual power plant (VPP) in partnership with Hawaiian Electric.
As One Step Off The Grid reported here, the California-headquartered Swell Energy last year raised $US120 million to roll out 600MWh of rooftop solar based virtual power plants, including 26,000 battery storage systems at homes and businesses across the US.
Swell Energy develops and finances residential and commercial virtual power plant (VPP) programs, in partnerships with local solar and battery companies in a select number of solar heavy states, Hawaii included.
According to the company's website, a total of 6,000 homeowners in Hawaii's Maui, Oahu, and the Big Island are eligible to join.
The VPP participant shared by Mangat on LinkedIn offers an extreme example of what Swell Energy describes as a "21st Century utility," thanks to its huge roof space of 10,000 square feet and accommodating budget, also able to finance 81kWh of battery storage.
As can be seen in the photos, the house is more reminiscent of Magnum P.I.'s 'Robin's Nest' compound than an average Australian – or even American – home. The cost of the solar roof and batteries must have been huge.
But the project nevertheless highlights the increasing value and utility of complete rooftop solar and storage solutions, particularly if it can supply all of your power needs and then earn a monthly wage on top of that.