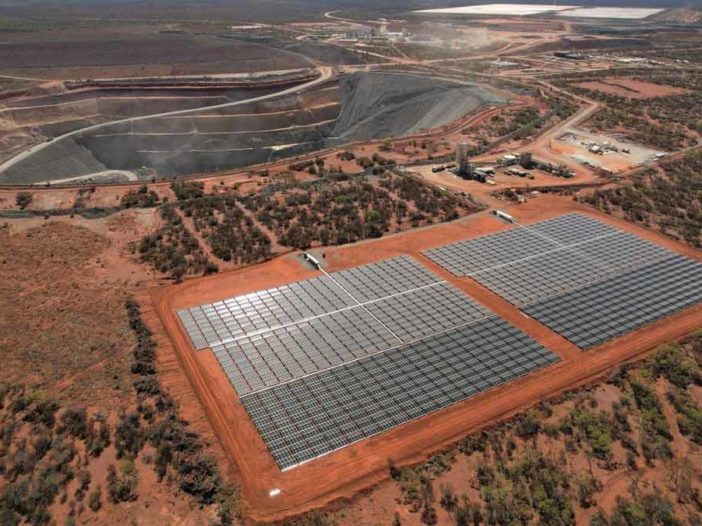 One of the first recipients of funding under the Western Australia's Clean Energy Future Fund is now up and running, with solar power now displacing diesel and gas use at one of the state's gold mines.
Northern Star's Carosue Dam gold mine, located near Kalgoorlie, is now being supplied with renewable electricity from the now-operational 5MW solar installation, cutting the mining site's emissions footprint by more than 5,600 tonnes each year.
The project was one of the first to receive funding under the Western Australian government's Clean Energy Future Fund – and is now the first operational – after receiving a $1 million grant to support displacing the mining site's diesel and gas use.
WA energy minister Bill Johnston said he hopes the project can serve as an example for other mining operations across the state for how renewables can be integrated into their operations.
"I'm impressed that the number of clean energy generation projects is becoming an increasing trend at mine sites and Nomadic Energy should be congratulated on setting a new standard for industry," Johnston said.
"The Nomadic Energy project will generate more than 8,800 megawatt-hours of energy each year, which is enough to power 1,700 Western Australian homes."
The installation, undertaken by Nomadic Energy, involved the deployment of 5MW of solar capacity, using Australian solar tech company 5B's rapidly deployable Maverick platform.
The use of the Maverick platform, which allows pre-mounted solar panels to be deployed quickly and without the need for significant on-site infrastructure, allowed the project to install a peak of 600kW of solar capacity in a single day, with a team of just four people.
Nomadic Energy will retain ownership of the solar installation, supplying power under contract to Northern Star. The solar installation can also be re-deployed to other mining sites as needs evolve.
WA minister for climate action, Reece Whitby, said the type of innovative deployment of renewables at the Carosue Dam gold mine would help the state reach its emissions reduction targets.
"To meet the State's net zero by 2050 target, we need projects like this that address challenging emissions sources with technologies having strong potential for wider adoption," Whitby said.
"Each year, the Nomadic Energy project will displace 5,621 tonnes of carbon dioxide equivalent, equivalent to taking 1,800 cars off the road."
Michael Mazengarb is a journalist with RenewEconomy, based in Sydney. Before joining RenewEconomy, Michael worked in the renewable energy sector for more than a decade.