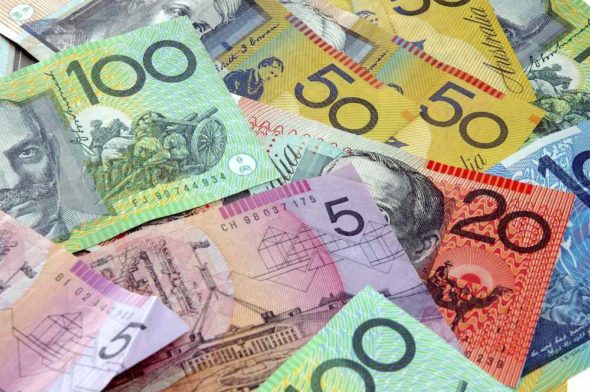 Australian consumers are painfully aware of the energy cost crisis. And from July 1, electricity bills are set to rise by a further 20-25% across South Australia, New South Wales, south-east Queensland and Victoria. The increases will add to cost-of-living pressures across households and small businesses.
With the burden likely to fall yet again on the consumer, we're being told to shop around for the best deal.
So, where do you start? There are about 25 electricity suppliers in NSW alone. Some you probably have never heard of. Do you go to each one online and see which has the best deal? That's unlikely. It is too overwhelming and time-consuming.
Instead, you resort to using energy comparison websites. However, based on my experience, neither energy bills nor comparison sites are easy to use or clear about the terms of deals – and I study energy economics.
It's not just me – consumer advocacy group Choice has found problems with these sites, while Clare Savage, chair of the Australian Energy Regulator (which announced the price increases), has said a "complex and confusing" process left her unsure whether she had found the best deal.
If consumers are being told to shop for the best deal, better regulation is needed to ensure the average person can do this.
So how do you compare energy deals?
First, you'll need to have a close look at your electricity bill. Does your account clearly state what plan you are on?
My AGL bill says I am on a "Bright" plan. Not so bright as I cannot find any details about it on AGL's site! It's probably a plan that no longer exists.
Why are retailers constantly allowed to change the names of plans? It's confusing.
The Australian government has an official energy comparison website called Energy Made Easy. There are third-party comparison services, too, such as Canstar Blue, iSelect, Energy Finder and Compare the Market. In 2020, the Federal Court fined iSelect A$8.5 million for misleading consumers when plans it recommended between November 2016 and December 2018 were not necessarily the most suitable or competitive.
In addition, other third-party providers use cold calling and pressure consumers to switch in one phone call. I once used such a service a few years ago. I now get calls every six months asking me to switch. How can I verify a deal over the phone?
Third-party providers get a referral fee from some electricity suppliers when consumers switch through their websites. Canstar, for example, provides a list of suppliers and has a "Go to Site" or "Details" icon under the More information" column to the right. If you click on the "Go to Site" option and sign up, Canstar gets a referral fee.
On the Canstar website, you first enter the suburb (in my case, somewhere in NSW) before getting a list of prices. The default energy distributor is Ausgrid. Since I am with Endeavour, I had to edit this.
Endeavour resulted in prices that were significantly above Ausgrid prices. Why are the prices different? I don't have the answer.
If you stick to the default Ausgrid, you can enter your home address in the next step, which will then adjust your details to the correct provider. Why not start with the address in the first place if a suburb has multiple electricity distributors?
You have the Energy Made Easy option to go down the official path. The Australian Energy Regulator received A$8 million to make this website work better. Was this money well spent? I don't think so.
The initial steps on Energy Made Easy are straightforward. You select electricity, enter your postcode, and select the number of people in your household.
Next, to provide the details of your energy use, you can enter your National Metering Identifier (NMI) number on your bill. Or you can upload the last 12 months of your bills. I tried both options.
The NMI option gives you different prices from the "Upload PDF bill" option. How is this possible? Yes, another stressful and frustrating situation.
Next, read the terms and conditions. They state that the information presented might not be accurate. My confidence dropped after reading this.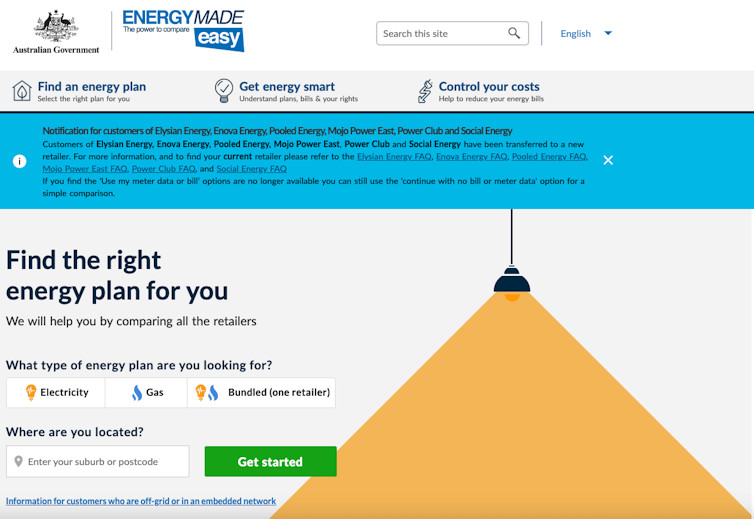 Like-for-like comparisons are needed
The NMI and PDF bill uploads present you with a total cost over 12 months. It's the same on other online comparison sites. I expected a monthly comparison, as this is how I get my bill.
I also expected a neat comparison across usage charges, usually per kilowatt hour (kWh), and the daily supply charge to bring electricity to my premises. Instead, I was presented with connection, disconnection, move-in and move-out fees. Some had a membership fee. We all know what that means. You are likely to stick with that provider for much longer.
There are many other options to consider. Do you have a swimming pool? Is this on a controlled load? What is a controlled load? What is the difference between a standing and a market offer? Wait a minute, the standing offer is also known as the default market offer. Some retailers call the "standing offer" the "reference price". In fact, the idea of a default price was to make it easier to compare retailers.
You need to know these terms as you will encounter them while you shop around. And if you don't shop around and your market offer (that fancy-named plan) has expired, you will likely pay the maximum price.
Please read the terms and conditions. Please read the fine print before making your choice. Too many people skip this, but the details matter when trying to get the best deal.
It looks like Australians are sitting ducks when it comes to electricity price rises. We need better guidelines for what information is presented to the consumer and in what form. Current regulations require only the essential information to be given either on bills or comparison sites.
We need a better solution than simply asking consumers to shop around for the best deal. Right now, even the official Australian government website can't accurately help us.

Lurion De Mello, Senior Lecturer in Finance, Macquarie University
This article is republished from The Conversation under a Creative Commons license. Read the original article.