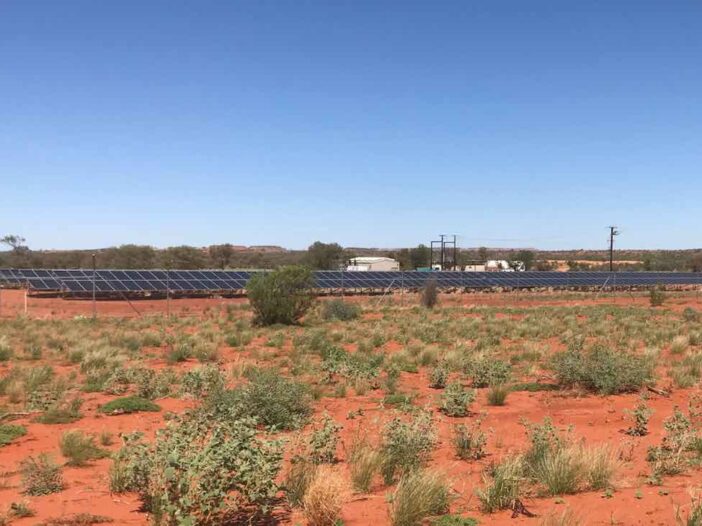 A solar and battery microgrid installed at the Aboriginal community of Titjikala in the Northern Territory has supplied an average of 83% renewables over the month of September, often covering 100% of the remote town's energy needs.
Titjikala's 400kW solar array and 970kWh battery energy storage system was installed through the Solar Energy Transformation Program (SETuP), which is run by Northern Territory utility, Power and Water Corporation.
The remote town 130km south of Alice Springs is one of 25 communities powered through SETuP, as part of the Territory government's efforts to reach 50% renewable energy by 2030.
In an update on the microgrid's progress, the government said this week that the community, home to 200 residents, had been powered by 100 per cent solar for an average of 20 hours a day during September, with the remainder covered by diesel engines.
SETuP has so far rolled out 10MW worth of solar to 25 communities across the NT which are serviced by Power and Water's subsidiary, Indigenous Essential Services, providing clean energy for around 1,750 remote houses.
The $59 million SETuP program is co-funded by the Australian government through the Australian Renewable Energy Agency (ARENA).
Installation of the battery energy storage system operating in Titjikala was funded by the Northern Territory government and commissioned in March of 2021.
"Titjikala is a great remote renewable energy success story – providing safe, reliable and environmentally friendly power to the community," said Nicole Manison, the Northern Territory's minister for renewables.
"The Territory Labor government wants a future powered by renewable energy, creating green jobs and driving down emissions.
"With our abundant solar resources, we can create permanent and stable energy solutions that decarbonise our regional and remote areas."