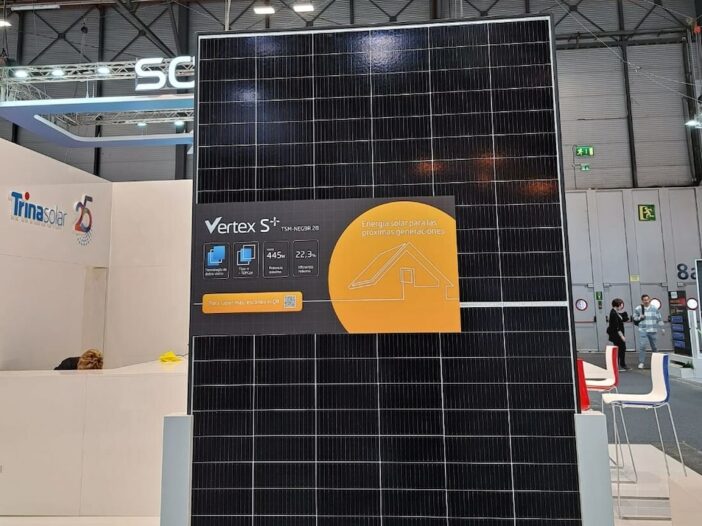 Leading Chinese solar manufacturer Trina Solar has launched a new Vertex S+ solar module series based on n-type tunnel oxide passivated contact (TOPcon) technology and a robust dual-glass structure.
Trina Solar launched its newest Vertex S+ solar module series at the Genera trade fair in Madrid, Spain. Boasting a dual-glass design and shifting to n type i-TOPCon cells, the module can generate approximately 10% extra energy over 30 years, as compared to its p-type peers.
Available in two specifications, the monofacial NEG9R.28 boasts maximum output power of up to 445Wp and an efficiency rating of up to 22.3%. A white rear encapsulant helps to create the maximum output power, the highest in an area of less than 2-square-metres.
The transparent NEG9RC.27, on the other hand, is a bifacial model featuring a front side power of 435Wp and an efficiency rating of 21.8%. This transparent panel is designed for high-end aesthetic applications, such as residential rooftops, where the array could theoretically "all but disappear" visually.
The use of n-type cells also ensures that the panels offer a 50% lower initial degradation and an 11% lower annual power attenuation. According to Trina Solar, these two upgrades together "result in a substantially boosted energy yield over the module's lifetime, and improved reliability."
Decreased weight of only 21.1kg thanks to the use of two layers of ultra-thin glass means installers can handle the new Vertex S+ on the roof just as they have with traditional PV modules.
The Vertex S+ is also highly compatible with installation components, offering a variety of mounting methods and compatible with more than 99% of mainstream inverters thanks to its short circuit current of 10.7A.
A 30-year performance warranty and mechanical integrity guaranteed for 25 years ensure that the panels will be in use for many years to come.