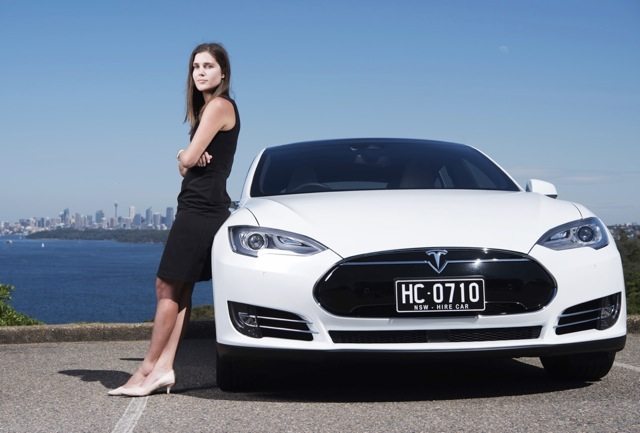 Sydneysiders looking for a more fancy ride from A to B than Uber, or for a greener ride, or to experience driving in a Tesla Model S, can now satisfy all of the above urges using Evoke – Australia's first zero-emissions luxury chauffeur service.


Founded one year ago this month, Evoke's Sydney-based fleet of pure electric vehicles has expanded from one to four Tesla Model S limousines, which have together clocked up a cumulative mileage of more than 200,000km.
Evoke offers "luxury transfers" from point-to-point, including to and from Sydney airport. The fleet is also available for weddings, vehicle demonstrations and other special occasions.
The company, founded by Pia Peterson, says it has gathered a core group of dedicated users over the past 12 months, who use the service for business and pleasure.
And each week the zero emissions fleet avoids the combustion of 1000L of petrol and the creation of 2.5 tonnes of CO2.
"We have been absolutely blown away by the response from the community," said Peterson, who said she was also thrilled to support the "beleaguered" Australian renewable energy industry.
"With our government in complete denial about climate change it is up to private industry, with assistance from the general public, to take action to reduce our emissions," she said.
"Any day we can avoid pumping the pollutants from burning hydrocarbons directly into the faces of our potential customers is a great day."
Peterson expects to continue to grow her fleet when the Model X arrives on Australian shores – at this stage that looks to be sometime in 2017 – and is looking to expand into other capital cities when the timing is right.
"A zero-emissions future is coming and we are glad to be leading the charge – pun intended".