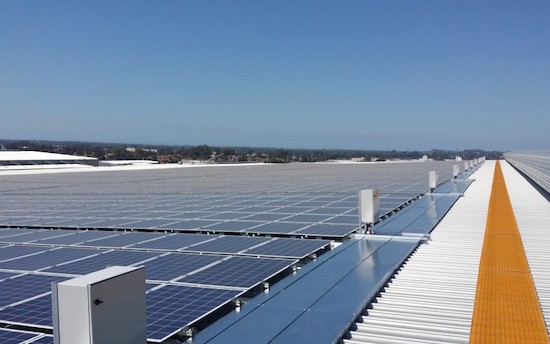 Discount supermarket chain ALDI is set to install another 4.6MW of rooftop solar across stores and a distribution centre across New South Wales and Queensland, to further cut its daytime draw from the grid.
The 31 new projects will be installed by Netherlands-based Photon Energy – 30 arrays on stores, and one on a distribution centre – and are expected to generate a combined 6.3 GWh of clean energy a year once completed.
"Photon Energy is very proud to be cooperating with ALDI to transform its stores into solar power generators capable of providing a large proportion of their daytime electricity consumption," said managing director Michael Gartner in comments on Tuesday.
"Photon Energy will also provide state-of-the-art monitoring as well as operation and maintenance services to ensure the systems are highly reliable with the maximum positive impact for ALDI," he said.
The new installs will join the massive 1MW array on ALDI's distribution centre in Brendale, Queensland, installed by Epho Solar in November 2017 after a successful pilot program that installed PV on stores in NSW and Victoria.
The German-owned retailer is gradually building its commercial solar capacity in Australia, after making major investments in solar across its European and US businesses.
In the UK, for example, ALDI had installed solar at all nine of its regional distribution centres and more than 275 stores, with a combined capacity of more than 22MW at the end of 2017.
In Germany, the majority of Aldi stores cool their merchandise and run their lighting on solar power, using most of the 95 million kWh of electricity generated by rooftop PV in their home country for energy self-sufficiency.