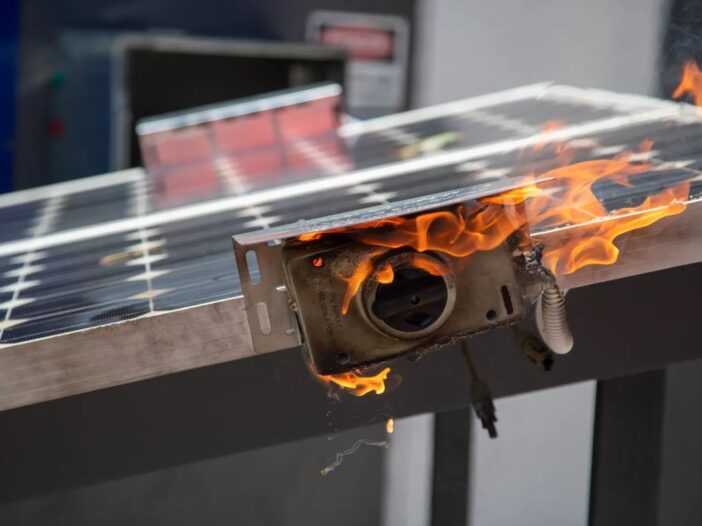 Rooftop solar fires are great mainstream news fodder. The most recent example turned up last week, when an ABC Darwin story about a home where a PV system's DC isolator went up in flames (no one was hurt and the house survived unscathed) was spun into a bigger story about how there has been a nation-wide spike in such incidents.
The ABC News report – coming roughly a year after the last one – says data shows most states and territories in Australia are seeing a significant uptick in DC isolator-related rooftop solar fires in the past year, led by Victoria with a total of 27.
(Actually, the report says there were 64 rooftop solar fires in Victoria for the year and 27 were traced back to DC isolator faults.)
A caption below the TV version of the story says DC isolator switches have been found to be behind "a 500% increase in rooftop fires over the past three years."
In the television report, a NT Worksafe electrical inspector gravely tells the camera that DC isolators "have been catching fire all over the country."
So what's going on with rooftop solar? And are DC isolators just ticking time bombs waiting to go off?
First, let's get some perspective. According to the Country Fire Authority, there are around 3,000 house fires in Victoria a year, the majority of them starting in kitchens. Going by the ABC's 2022-23 statistics, this means around 2 per cent of these are being caused by solar systems.
And there are a lot of homes with solar in Victoria. According to Solar Victoria there were around 510,000 Victorian households (and counting) with rooftop PV at the end of 2022, which means 0.01% of that number caught fire in that year.
That said, even one rooftop solar system catching fire a year is one too many, so why is it happening and what can be done to stop it?
DC isolators
Like other electrical appliances around the home, faults in wiring and electrical connections, components and wires are the most likely cause of solar system fires and, yes, on this front DC isolators have a bad rap.
This is a bitter irony because DC isolators were made mandatory in Australia as a safety measure (they are no longer mandatory, but more on that later).
Even more ironically, this measure was pushed for by fire fighters, who – quite reasonably – wanted an easy way to ensure they wouldn't get electrocuted while trying to do their already very dangerous job.
But in the solar industry, DC isolators have been criticised for adding complexity and cost to rooftop solar installations and opening them up to more faults, such as dangerous water ingress, with negligible returns on safety.
As James Patterson explained in this article in 2020 when he was installation compliance specialist for standards at the Clean Energy Council; it's a complicated issue.
"Extra DC connections and additional places for water to seep into enclosures pose a genuine risk. But so does not having a method for non-electricians (such as emergency services personnel) to isolate live cables," he said.
Progress on DC isolators
After years of being a burning point of contention in the Australian solar industry, the requirement for all installations to include a rooftop DC isolator was finally removed in November 2021.
An updated solar installation standard, AS/NZS 5033, largely nixes the mandate for average residential systems in return for a number of alternative measures to ensure the safety of others, including first responders, working around live solar systems.
We won't go into the nitty gritty here, but will sum it up using the words of Sandy Atkins, ex-Clean Energy Council and co-chair of the committee behind the revision of AS/NZS 5033:
"If you still want to use DC isolators then you can, but if you don't, the standard allows for other solutions such as disconnection points."
It starts with the installation
DC isolators aside – and as the ABC's own data shows, they are not the only culprit behind rooftop PV fires – the very best chance you can give your rooftop solar system to avoid any kind of faults starts with a good installation by fully trained and accredited professionals.
This Clean Energy Council service is a good start.
In 2023, the rules governing rooftop solar installations and oversight of those rules are tighter that ever, after a suite of reforms based on the findings of an Integrity Review of the Rooftop Solar PV Sector commissioned by the federal government.
In Victoria, systems installed under the state government's Solar Home rebates have to follow strict guidelines to be eligible for the scheme, including using only accredited installers and equipment. Solar Victoria, which runs the rebate scheme, says 70% of the state's installations are done through Solar Homes.
This means the main focus of concern around the safety of rooftop solar is on systems installed outside of government rebate schemes and also early on in the solar boom when regulations were perhaps not as tight.
Significant improvements
Solar Victoria's acting CEO Paul Corkill says that – while older systems with poorly installed DC isolators might be making the news more regularly for causing fires – the organisation's safety inspection team are finding fewer issues in their random audits of new installations.
"In Victoria, unlike other most other states, we require an independent licenced expert to inspect the system for its safety before it's actually energised after the installer has completed their job," he told One Step Off The Grid this week.
"So collectively those things really lead to some quite significant improvements in the safely of the systems. And the other [improvement] is obviously the advancements that have happened through the Australian Standard, which provide an option now for solar installers to omit the rooftop isolator and to use a different installation methodology which engineers out that that risk.
"And then there's the emergence of the wall isolator that's at ground level or being embedded or integrated into the inverter, is far more common these days.
"And so we are seeing this problem and the prevalence of it really significantly diminishing, which is pleasing. But there is that there is that issue with longer term systems."
So what can be done to keep your system safe and out of the ABC news?
Whether your system is old or relatively new, the message from groups like Energy Safe Victoria is that households get their systems checked regularly. They are electrical appliances after all, and they sit up on your rooftop in the elements, sometimes for decades.
"We're recommending that all solar PV owners have their system inspected by every two years," Solar Victoria acting CEO Paul Corkill told One Step Off The Grid.
"And they do that, as a minimum, using a qualified electrician, but our recommendation is that they contact the original installer … who's obviously got the experience and the knowledge … to make sure that everything is still in good order."
To this end, Solar Victoria has teamed up with Energy Safe Victoria on a program called Show Your Solar Some Love," to encourage regular inspections and maintenance of rooftop systems.
The website offers helpful advice on topics like how to choose a licensed electrician; how to avoid "rogue operators" including those who claim to service panels, but actually just clean them; and what's involved in a service.
So, what is involved in a service?
According to ESV and Solar Victoria, regular two-yearly maintenance of your solar panel system should ensure:
no parts have deteriorated or corroded
vents are free of debris
switches do not have any defects
wiring has not been damaged and has not deteriorated
electrical checks to ensure all components are operating as intended
confirming fittings and cables are securely attached
reviewing the inverter display panel for recorded faults
checking that access to the isolator switches has not been impeded, and/or
making sure the emergency procedures for shutdown and isolation are clearly displayed.
How much does this cost?
This will depend on the complexity of your system/roof (how hard it is to check) – as well as what the inspection finds. For my two-tiered rooftop system, for instance I have been quoted just under $400 for a "system health check" by the system's original installer.
This is not cheap, but considered in the context of having a healthy and safe system – and potentially one that generates more power after being checked and having any faults or inefficiencies corrected – it's well worth budgeting for.