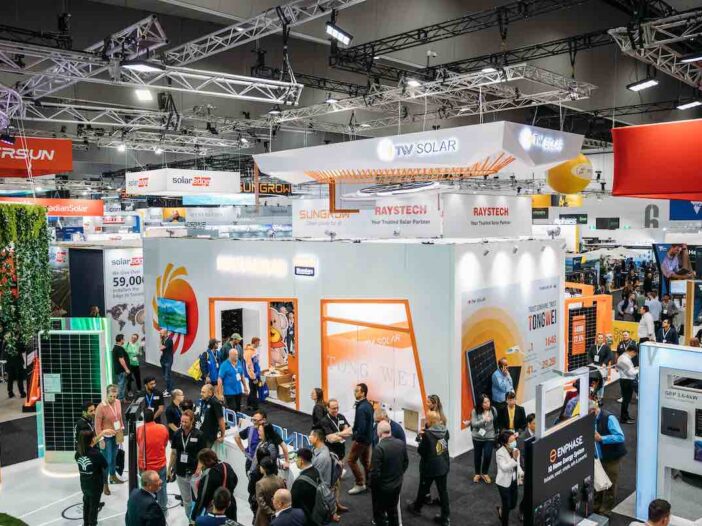 One of the biggest events on the renewables calendar, All-Energy Australia, is done and dusted for another year, after a likely record-breaking turnout.
The official numbers aren't in yet, but there were 15,000 registrations and the word is the numbers who turned up will easily eclipse last year's event, which topped 8,500 attendees.
With thousands of people and hundreds of exhibiting companies all in one place, it's tough to keep track of all the product launches and announcements made at All-Energy, not to mention the dozens of presentations and panel sessions.
The exhibition was dominated by some of the big panel manufacturers – such as Jinko, Trina, Q-Cells, Canadian Solar, and Bay-Wa, and the inverter makers such as Solar Edge, Enphase, Sungrow, Growatt, and Fronius, but also more storage companies, and more storage offerings, including global giants Tesla and CATL.
And many of those crossed over all three products. There were EV charger makers (Evnex, Kempower, Wallbox, and Tesla) and even a big stand from Origin Energy, which presented Origin Loop, an effort to link all the technologies together for their customer base.
So here's a wrap on some that we think are worth highlighting from this week's event.
New battery from Redback
Brisbane-based Redback Technologies offered a first look at its brand new battery storage system at All-Energy, ahead of its launch on the Australian market in the second quarter of 2024.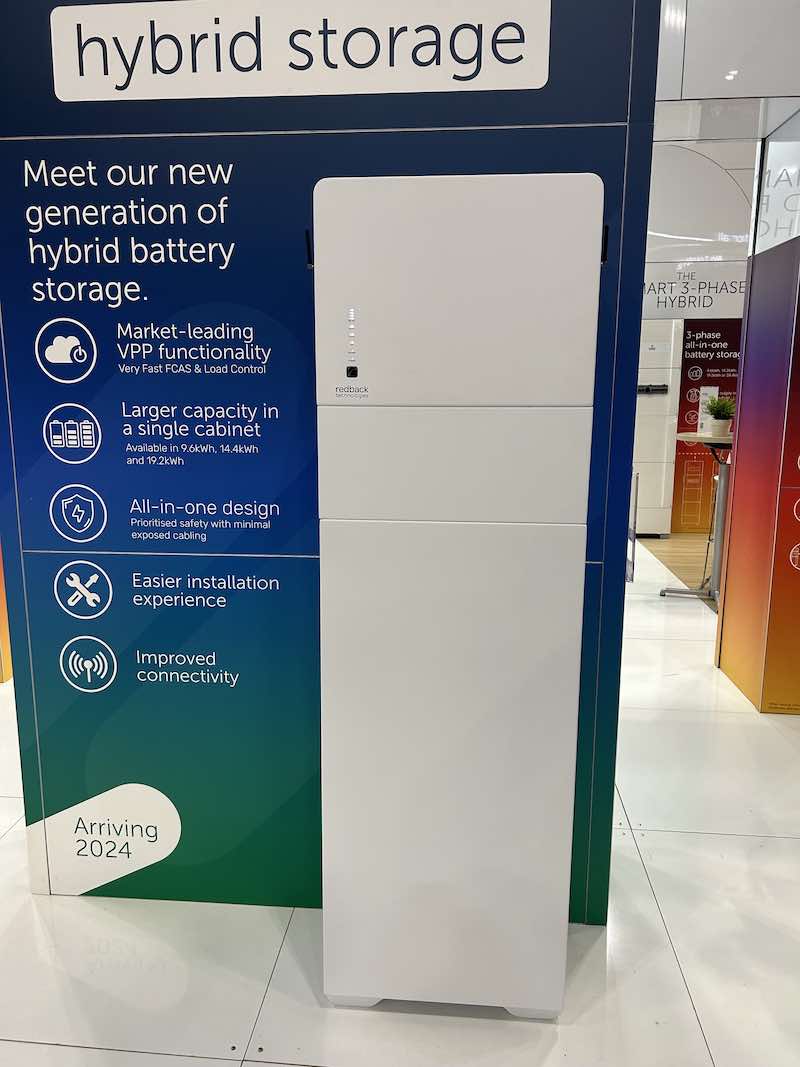 The new Hybrid Battery System has a neat, streamlined look – the one-size white cabinet neatly houses all of the technology and wiring, including smart inverter, and accommodates all three of Redback's battery sizes – 9.6kWh, 14.4kWh and up to 19.2kWh.
The battery and inverter also has increased grid back-up capacity, offering 6kW on-grid and 5kW off-grid of uninterrupted power supply, and features AC and DC connections and a pre-wired battery optimisation system.
No word yet on price.
New batteries and inverters from Sungrow
Sungrow brought its new generation of liquid-cooled energy storage systems to All-Energy this year, including the industrial and commercial PowerStack unit – a 250kW battery offering either two-hours or four-hours storage.
Sungrow also introduced its new residential single-phase hybrid inverters SH8.0RS and SH10RS and batteries, which it says offer "seamless transitioning" to back-up power, a digital energy management platform, and multiple safety safeguards.
During the exhibition, Sungrow signed a 3GWh strategic partnership agreement with Hive Battery Development, a 250MWh-300MWh BESS supply agreement with Penske, a 600MW distribution agreement with Solar Juice, and a 500MW distribution agreement with Raystech.
Trina's 700W solar module
China PV giant Trina Solar had on display this year its brand new 700W Vertex N module, heralding the arrival of the "PV 7.0" era.
"The solar industry is entering 'golden era', with the 700W Vertex N module a precursor of what is about to come," said Trina Solar's head of Australia, New Zealand and the Pacific Islands, Edison Zhou.
Zhou notes that the vast majority of the modules on display at this year's All-Energy have significantly higher power output and efficiency than last year, where the panels on show were 500W+.
Trina Solar's NEG21C.20 module has maximum efficiency of 22.5% (how much light it absorbs) and maximum power output of 700W.
The company says the 700W power is generated from the bifacial module's frontside, with additional electricity generated by the rear side of the module – helping developers to continue to push down the levelised cost of energy and balance of system costs of their projects.
Trina also announced at All-Energy that it has signed a supply deal with MPower, a solar developer with a portfolio of more than 30 small utility-scale PV and battery projects across Australia's eastern states.
The agreement covers the first five utility-scale solar farms and amounts to an initial 39.5MW of Vertex solar modules and 31.2MW of TrinaTracker Vanguard 1P trackers for delivery over a 12 month period starting in the final quarter of this year.
New battery and player joins the market
A new home energy storage contender unveiled its wares at All-Energy, with Chinese tech outfit Anker debuting its SOLIX brand home battery ahead of its launch in Australia.
The Anker SOLIX X1 Home Energy Solution is pitched as a flexible, modular battery which starts at 30kWh/6kW and can range up to 180kWh/36kW, with six systems in parallel.
The Solix X1 also offers back-up power, which the company says will "continue to work with the owner's PV panels to power their home, seamlessly switching to off-grid mode in less than 15 milliseconds."
The new battery operates safely in temperatures ranging from -20°C to 55°C and is backed by a 10-year warranty. It also features a smart battery management system that Anker says increases its revenue potential and home energy self-sufficiency.
"It includes an AI Forecast feature that will automatically trigger power backup ahead of a storm to provide peace of mind. Additionally, the X1 can discharge 13.2 kWh at 110% of the standard rate, enabling owners to trade energy back to the grid at peak prices," the promo material says.
"This is a new space for us, but one where we see tremendous opportunity," said Gaspar Xie, General Manager, Anker Innovations ANZ.
"Through the introduction of Anker SOLIX X1 we're leveraging our deep expertise in battery storage and power delivery to help meet the growing demand in Australia for efficient solar energy solutions."
A new solar panel from a newcomer to Australia
Another newcomer to the Australian market is China-based Aiko, which was founded in Shanghai in 2009 but made its Australian debut at this year's All-Energy with a series of solar modules using "cutting edge" solar cell products.
Among these are the ABC (All Back Contact) structure cells and component products, which Aiko has developered independently, to achieve electricity generation efficiency reaching 24 per cent, the company claims.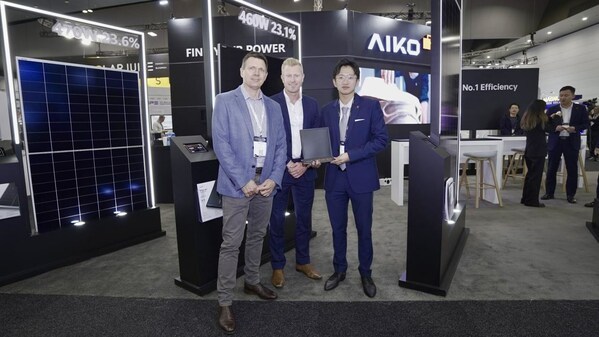 Aiko says the ABC double glass solar component uses dual-glass encapsulation technology, enhancing the overall module's endurance and safety. The panels come with a 25-year product quality warranty and a 30-year power quality warranty.
As of the first half of 2023, Aiko has set up subsidiary companies in nine countries, including Germany, Netherlands, UK, Italy, Singapore, and Japan. It says its entrance into Australia marks "a significant step" in its global expansion.
A battery that can charge your car?
Sigenergy also made its Australian debut at All-Energy this year, and introduced what it claims to be the first-ever 5-in-1 energy storage system that integrates battery pack, battery power conversion system, inverter, EV charger and energy management system into a unit that it says takes 15 minutes to install and 5 minutes to commission.
The SigenStor hybrid battery has a big capacity range, which means it can extend beyond home storage to off-grid and small commercial/industrial.
In on-grid configurations, multiple SigenStors can be installed side by side, delivering up to 250kW power output and 480kWh storage capacity.
The SigenStor also offers back-up home power supply, for which it claims to achieve "the industry's quickest on/off-grid switching." Many promises and claims, so we will see what the industry says when there has been time to take a deeper look.
On the EV charging side, the company says the battery is designed to incorporate an EV DC charging module that can deliver 150km of driving range per hour and can also facilitate bidirectional charging.
Lots of promises and claims, so it will be interesting to see what the industry verdict is as the product becomes better known.