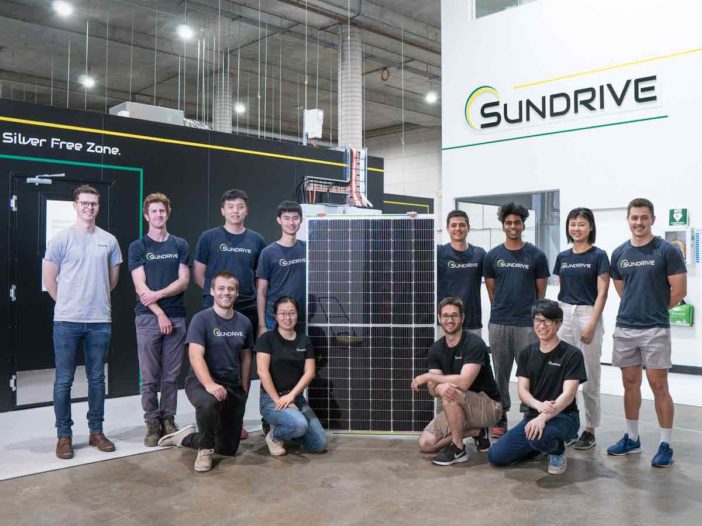 Australia is in a "global race" to stake a claim in the booming solar manufacture market – a supply chain spanning polysilicon, wafers, cells and modules that in 2021 was valued in excess of $US40 billion, an increase of more than 70% from 2020.
At the moment, China has an iron grip on the market, with a share in all of the manufacturing stages of solar panels exceeding 80%. According to the China Photovoltaic Industry Association, the nation's annual export of solar PV products surpassed $US51 billion in 2022 – a year-on-year increase of 80.3%.
But can Australia muscle its way in?
Wyatt Roy, a former member of the federal Coalition government – and minister for innovation under Malcolm Turnbull – believes it can. And in his current role of strategic advisor to Sydney-based PV innovator and manufacturing start-up SunDrive Solar, Roy is doing his bit to bring some of those global solar billions home.
"You know, Australians love to talk ourselves down. But we literally invented modern solar technology," Roy told One Step Off The Grid's Solar Insiders Podcast this week.
"I think last year, globally, there was about $50 billion of revenue in the solar industry, essentially using IP from Australia.
"Unfortunately, very little value of that today is captured in Australia. As we know, 85 to 90% of the world's solar panels are now manufactured in China. We're very determined to change that."
SunDrive, whose innovative solar cell technology (more on that later) was spun out of the UNSW, at the start of the month became the proud producer of the first Australian-made solar cell in more than a decade, at its newly scaled-up Sydney manufacturing facility.
At the same time, at the launch of the new factory, it was awarded further funding from the federal government, via Arena, to help fund the shift to commercial-scale production of solar cells – to a capacity of 100MW a year.
It was a big deal. "This facility symbolises everything that my government is about," said Prime Minister Anthony Albanese, who was there to mark the occasion.
Federal Labor has made a big show of its ambitions for Australian solar "sovereignty," including through funding to the $1.2 million Silicon to Solar study by the Australian Photovoltaic Institute (APVI) and the Australian Centre for Advanced Photovoltaics, to work out what's needed to create a market at scale for locally manufactured panels.
That list is bound to be long, but Roy says that for companies like SunDrive supportive governments and policies offer a strong starting point.
"We have constructed a very large commercial demonstration and pilot line … to prove out the fact that we can manufacture [our technology] at scale," he tells Solar Insiders.
"The next significant opportunity is to scale this up to a large commercial facility where we would be manufacturing complete solar cells and modules and taking a very interesting differentiated product into into the market. And it's our very strong intention to do that in Australia, if we can.
"We're in a global race, this is a competitive environment – we're a company and we always consider the options; but with the right support from the Commonwealth, and from the states, we are very determined to turn Australia into a solar manufacturing powerhouse.
"And as a country, we have all the fundamental elements to to do this if we can get that policy environment right."
The technology
SunDrive, established by CEO Vince Allen during his PhD at UNSW and backed by high profile investors including Mike Cannon-Brookes, is developing a technology that uses copper for PV cell metallisation, instead of silver.
This novel approach aims to further cut the costs of making solar panels, given that copper is around one hundred times cheaper and one thousand times more abundant than silver.
The company says the metals swap will result in an installed cost of solar that is 20-30% cheaper than other high-efficiency cells. But there are other major benefits.
"The first big benefit is you get a more efficient solar cell," says Roy. "SunDrive, about a year ago broke the world record for the world's most efficient commercial-size solar cell. So a really great achievement for Australia on the world stage. And I think that shows the impact of this technology.
"Also, in the manufacturing process, you're not using the high levels of heat and energy that you need in the traditional silver-based approach – and that's also reducing the cost and emissions of the manufacturing base.
"And then you also have an environmental benefit, because to extract and refine copper, versus silver, is about 90% less emissions intensive. So a very significant benefit."
Core solar strengths
On the manufacturing side of the equation, Roy is confident that Australia's core natural advantages are starting to line up in a way that will help to make it a global contender.
"I think the important thing to recognise is the fundamental strengths that we have as a country as our starting point. …Australia really should be the best place in the world to manufacture solar," he says.
"If you think about how China developed a very significant advantage, it essentially stood that up on two things: it stood up on very cheap labour, and cheap fossil fuel energy inputs into the manufacturing process.
"If you took a medium term view, in a net zero world, the economies that have cheap baseload renewable energy will have a competitive advantage.
"And I would argue that Australia, you know, we're the sunniest continent on the planet, we're the windiest continent on the planet after Antarctica, we're 26 million people on a very big landmass, we should be a country that can provide baseload cheap renewable energy into the manufacturing process.
"And that would be a big competitive advantage."
Then there are the "fundamental inputs" to the manufacture of solar – the raw materials or value-added materials that go into creating a solar panel, including silica becoming polysilicon and glass, aluminium, steel and – in SunDrive's case copper.
"If you think about those materials …Australia has the best, purest, deepest reserves of all of those minerals.
"As we transition the economy, Australia can have a real powerhouse in those … materials that we need," Roy says. "And if we can remove … some of the shipping costs, that's another big long-term advantage for the country."
And finally, there is Australia's precious – and probably highly undervalued – intellectual capital.
"As I said, we literally invented the technology," Roy says.
"What that means is we have technology know how that leads the world, but also we have all the talent.
"Australia has this amazing resource of incredibly bright, talented people in this industry. And if we had a sovereign domestic manufacturing capability, they would stay.
"So as a policy maker, that's a great starting point."
Power politics
Just a few years ago, it was a rare thing to see members of the successive Coalition governments – perhaps with the exception of the Turnbull years – at any renewable energy-related launches, or events.
SunDrive had the prime minister and the federal energy minister in attendance at the launch of its new Sydney facility and, at a time when the climate wars appear to be firing back up, the PM took the opportunity to wax lyrical about the economic benefits that shifting to 82 per cent renewables might bring.
"My government sees the connection between our future economy and our prosperity and the shift to a clean energy economy and dealing with the challenge as the greatest opportunity that we have going forward," he said.
"An economy that's driven by clean energy, which is driving advanced manufacturing, which is making more things here, and providing high quality, high-wage jobs for a skilled and innovative workforce here, creating prosperity for our people at the same time as we're driving down emissions.
"And I can ensure you that my government has this absolutely front, centre, back, side, behind, up, below, full in, this is where we are focused.
"This is about the environment, but it's about the economy. It's about what our future economy looks like. And the future economy's drivers are with business like this one here and with people like you."
But what about the other side of politics? Are companies like SunDrive worried that, should the LNP regain power, the Coalition's conservative factions will have their way and hit the brakes on what is often describes as the "mad rush to renewables"?
"Politics is a contested space," Roy says. "You're always going to have that spectrum. But I do think, rather than trying to continue a contested environment for partisan political reasons, I actually have a lot of hope …
"This is a great opportunity to build broad consensus… Having lived through difficult parliaments, I do think when it comes to manufacturing, advanced manufacturing of a sovereign capability, I think we'll find broad support across the parliament.
"I think, as the Prime Minister said when he opened SunDrive, unless we move forward, the world will move past us. So now's the time to seize the moment," Roy says.