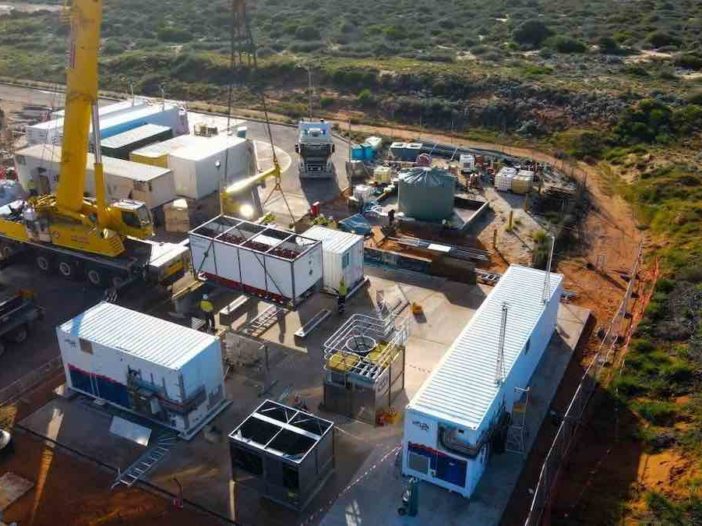 An Australian-first renewable hydrogen demonstration plant has been completed in the Western Australian town of Denham, where it will test the technical and commercial viability of using the emissions-free fuel as a baseload power source.
Western Australia government-owned utility Horizon Power commissioned the 348kW electrolyser, hydrogen compression and storage system and a 100kW fuel cell as part of a renewable microgrid combining wind, solar and battery storage.
The plant, which produced its first hydrogen in October, was designed and built by Hybrid Systems Australia, in partnership with fellow Pacific Energy subsidiary ENGV, alongside a 704kW solar farm dedicated to powering the hydrogen production.
Once fully operational in early 2023, the $9.3 million project is expected to be able to power around 100 households or 20 per cent of Denham's residents and businesses and offset around 140,000 litres of diesel a year.
From dirty diesel to clean hydrogen
The green hydrogen facility is part of a major upgrade to the town's microgrid, which previously ran on a combination of wind power and diesel generation.
With the four wind turbines – installed between 1997 and 1999 – and its diesel plant coming to the end of their operational lives, Horizon Power sought out a more modern and sustainable replacement to power the town.
After upgrade works, three of the four turbines – which had supplied around 30% of Denham's energy requirements – are being returned to work, while a fourth one is being decommissioned.
As well as adding solar and battery storage, the opportunity to trial the use of green hydrogen was also seized – and backed by the WA government ($5.7m) and the Australian Renewable Energy Agency, which provided $2.6 million through its Advancing Renewables Program.
All parties are keen to gain insights into the use of hydrogen in power generation, including demonstrating the efficiency of the electrolyser and fuel cell, the ramp rate of hydrogen in response to a decline in solar generation, and storage capability of hydrogen fuel cells versus batteries.
Building green hydrogen knowledge and capabilities
"The demonstration in Denham is extending knowledge of hydrogen technology and systems in practice and considers how this technology can be used in other remote power systems," said WA energy minister Bill Johnston.
"Once fully operational the plant will show how renewable hydrogen can be used to replace diesel and other fossil fuels to propel WA to net zero emissions by 2050."
WA minister for hydrogen, Alannah MacTiernan says the project is also a first step to building critical skills for the state as a producer and user of renewable hydrogen.
"The Denham Hydrogen Demonstration Plant here in Shark Bay demonstrates the WA government's drive to ensure Western Australia reaches its potential as a renewable hydrogen powerhouse," she said.
"Once fully operational the plant will show how renewable hydrogen can be used to replace diesel and other fossil fuels to propel WA to net zero emissions by 2050."
"A very dynamic project"
Hybrid Systems executive director, Mike Hall, says the project has allowed the company to hone its expertise in designing and building renewable microgrids, and gain valuable new experience in green hydrogen.
"It's still a budding industry in Australia, so we really had to start at the beginning, from designing a system based on first principle thinking to navigating both existing and newly developing industry regulations and licensing designed for different applications," Hall said.
"We've worked closely with Horizon Power and regulators to get the process right, and it's been a very dynamic project, but we looked at any challenges as growth opportunities, and in doing so, we've been able to see things through fresh eyes.
"Different solutions have presented themselves along the way. It's made us more agile in this rapidly evolving space and, ultimately, better at what we do. It's been an exciting journey and one that we're really proud to have been a part of," Hall said.
"We're looking forward to seeing the outcomes of Horizon Power's Denham project and ongoing research and, furthermore, what it means for renewable hydrogen in utility-scale applications."