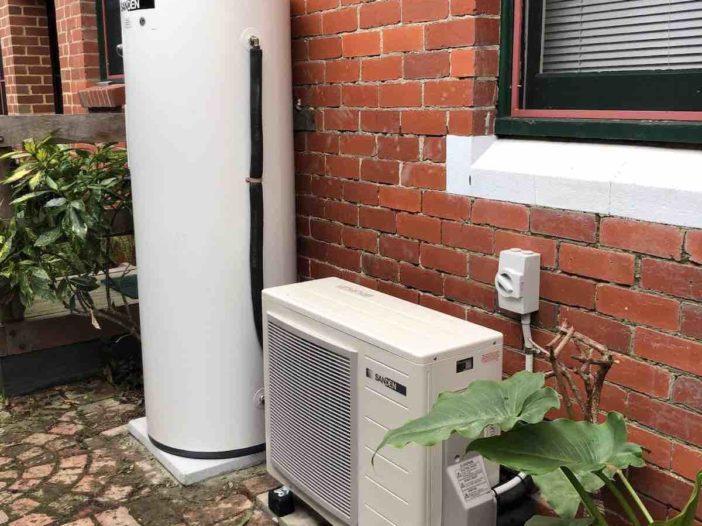 Australia is doing its best to help fulfil International Energy Agency predictions of a global boom in heat pump uptake, with the latest national data showing a 70 per cent jump in installations of the technology that promises a cheaper and more efficient way of heating water and homes.
In its second Quarterly Carbon Market Report (QCMR) for 2023, the Clean Energy Regulator reports strong growth in consumer-led small-scale renewables, with an estimated 60,000 air source heat pumps (ASHP) now installed over the first half of 2023.
The CER says this represents an impressive 70 per cent increase on the 36,000 installs in the first half of 2022, albeit from a comparatively low base compared to, say, solar systems.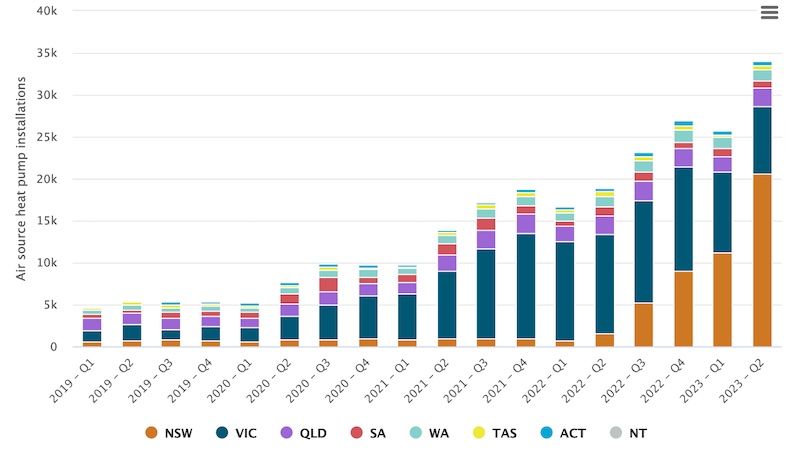 As last year's IEA report explains, a heat pump extracts heat from a source, in this case from the surrounding air, and then amplifies and transfers the heat to where it is needed.
Because most of the heat is transferred rather than generated, heat pumps are far more efficient than conventional heating technologies. The output of energy is normally several times greater than that required to power the appliance, normally in the form of electricity. Add rooftop solar and the equation gets even better.
In Australia, the most typically installed household ASHP technologies are reverse cycle air conditioners and heat pump hot water systems.
Heat pump hot water systems are included in the Small-scale Renewable Energy Scheme, the federal rebate. In many states, incentives now also exist to switch out gas heating for heat pump air conditioners – ditto for gas hot water.
CER chief and chair David Parker says it is clear that consumers are preparing for an electric future, while also taking control of their energy consumption to save money.
"Australia has among the best solar resources in the world and households and businesses continue to install rooftop solar at world leading rates," Parker said last week.
As SunWiz managing director Warwick Johnston wrote here, the rise and rise of heat pump hot water, in particular, in Australia is, indeed, part of an overall trend of electrification. But the trend is also being driven by new 7-star requirements for new-build homes; its compatibility with rooftop solar to soak up excess daytime generation; and the fact that in some states, like Victoria, eligible households can "double-dip" and claim a rebate for both PV and ASHP.
It's also got a great deal to do with the amount of savings that can be achieved – a particularly attractive prospect for home owners stung by the recent energy crisis and squeezed by rising interest rates and other cost of living pressures.
A Victoria-focused report earlier this year found that households in the chilly southern state can save hundreds of dollars – or up to 75% – on their winter home heating bills by switching from gas to electric.
The report by Environment Victoria, based on modelling by Renew, compares the costs and emissions of gas and heat-pump electric heating in a state where roughly 80 per cent of households have an active gas connection – and where home heating accounts for almost two-thirds of household gas use.
Rooftop solar still going strong
Beyond heat pumps, the CER says that in the first half of 2023, 1.4GW rooftop solar capacity was installed – or around 160,000 PV systems – putting the nation 21% ahead of the first half of 2022.
"If this typical trend continues, we could beat the 3.2GW record set in 2021," the CER report says.
The regulator also confirms other industry reports that the average rooftop PV system size is getting bigger, increasing from 8.7kW in mid-2022 to 9.3kW at the end of the first half of this year.