A solar and battery-based microgrid has begun powering a remote, off-grid wilderness sanctuary in South Australia's Flinders Ranges, resolving a "decades-long challenge" of power outages and uncertain, expensive and polluting diesel supply.
The Arkaroola Wilderness Sanctuary together with off-grid power specialist Apex Energy Australia announced on Tuesday that they have commissioned the Arkaroola Microgrid, including 100kW of rooftop solar and 120kWh of lithium battery storage.
Equipped with smart monitoring and control capabilities to manage loads, including electric vehicle charging, air conditioning and hot water heating, the microgrid kicks off Arkaroola's journey to renewable powered self-reliance.
But it also serves as an important educational experience in remote energy technology and engineering – and on a limited budget.
A great outdoor museum
Arkaroola Wilderness Sanctuary is located 600km north of Adelaide in the Flinders Ranges – a World Heritage candidate that was once described as "one great outdoor museum" for its significant fossil deposits and geological formations.
A popular ecotourism destination and hub for scientific and environmental research, the Sanctuary is considered to be one of Australia's most isolated self-supporting villages with its own power generation and water collection systems.
Having operated since the mid 1960s on diesel power, efforts began several years ago to shift Arkaroola to clean energy, driven at first by the facility's owners and community-based renewable energy funding venture Corena.
In 2021, those plans were boosted by $1.3 million in federal grant funding, which enabled a team of specialists led by Apex Energy to research, design, engineer and evaluate the best options to address the energy supply challenges of the Sanctuary.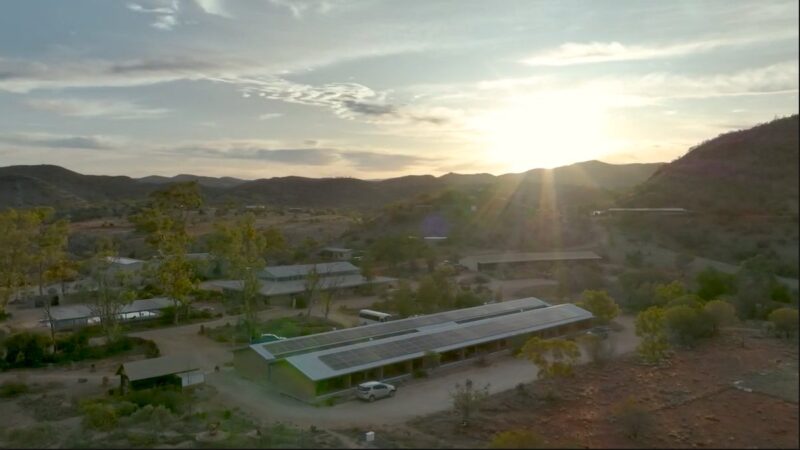 Eighteen months later, the team is putting to the test the innovative mix of technologies and solutions it has chosen for the renewable microgrid, which is already showing signs of slashing Arkaroola's diesel use by up to 50%, according to Apex Energy project manager Sean LePoidevin.
LePoidevin says the team put a premium on quality and reliability when sourcing the microgrid's core components, including balance of system products that would minimise upfront costs as well as ongoing maintenance and replacement, which can also become costly.
In addition, it looked to technologies that would be able to take temperature extremes in their stride, as well as the resulting energy consumption patterns that come with influxes of tourists and other visitors to the site.
In a LinkedIn post, LePoidevin says the team wound up using a base comprising the Australian-made Selectronic SP Pro 120 volt inverter/charger architecture, paired with 121kWh of batteries from Spain's CEGASA.
A solar mounting solution worth its (light) weight
For the 100kW of solar, Apex also had to be clever about how to install the panels at Arkaroola, particularly on the Mawson Lodge, whose corrugated iron roof and ageing building sub-structure was earmarked to host a big chunk of the microgrid's solar.
With 20 accommodation rooms, ensuite bathrooms, kitchenettes, and reverse cycle air-conditioning, Apex found that Mawson Lodge's total power consumption can be considerable during the winter peak season when temperatures drop to near freezing, and reach up to 40°C in the summer.
For all of the above reasons, the Apex team chose to install the panels using the light-weight rail-less solar mounting system from metal roof solar specialist S-5! – a choice that LePoidevin says cut the project's installation costs by 25 per cent.
Further, it allowed the team to design a landscape-oriented system, thus maximising the roof space sufficiently to expand the Mawson Lodge array by 7.3% to 61.6kWp of generation capacity.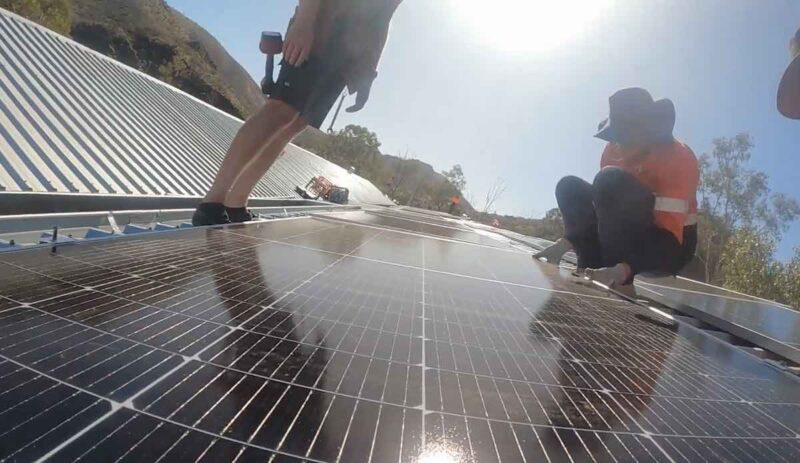 "Rails are unnecessary on a metal roof," says LePoidevin.
"Once you understand how to approach cable management, it really is a more common-sense solution with a multitude of benefits, from protecting the roof to cost savings and simplified logistics and installation.
"It makes sense from all angles," he says.
"The ability to install this rooftop system without rails meant lower freight costs – a systems savings of 750kg – maximising the available rooftop space for solar, an easier installation, and… [a] better-looking, low-profile rooftop system that blends with the stunning natural landscape."
Room to grow
Another must for the design of the microgrid has been built-in scalability, with the initial budget for the off-grid system not high enough to meet all of Arkaroola's energy needs in the first instance.
"The system had to be designed so that capacity could be added easily without requiring major system rework," LePoidevin says.
To this end, the 100kW solar array on the Mawson Lodge and workshop rooftops has been designed to be expandable to 400kW; the battery system is expandable to 363kWh; and a 60kW continuous 3-phase battery inverter/charger is expandable to 180kW.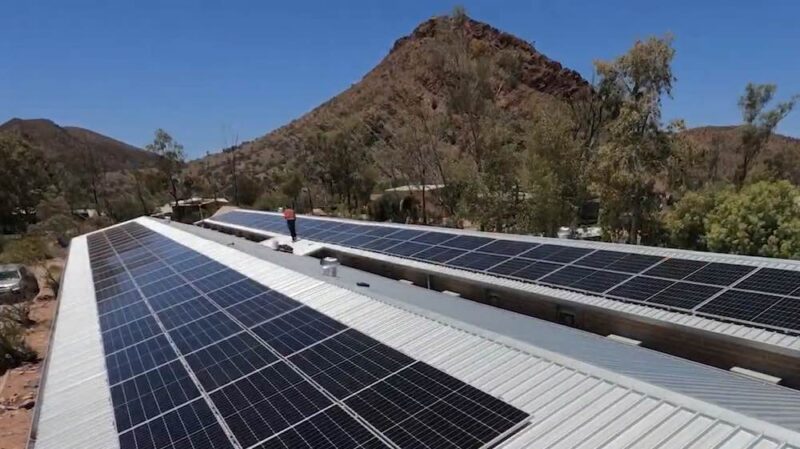 The microgid also includes control integrations with the existing diesel generator system, a new village main switchboard to integrate the solar and battery system into the power distribution network, underground cabling to major solar locations, and a 22kW 3-phase public electric vehicle charging station.
"In the two weeks since the system has been commissioned, preliminary data suggests that diesel fuel consumption has reduced by 50%," LePiodevin says.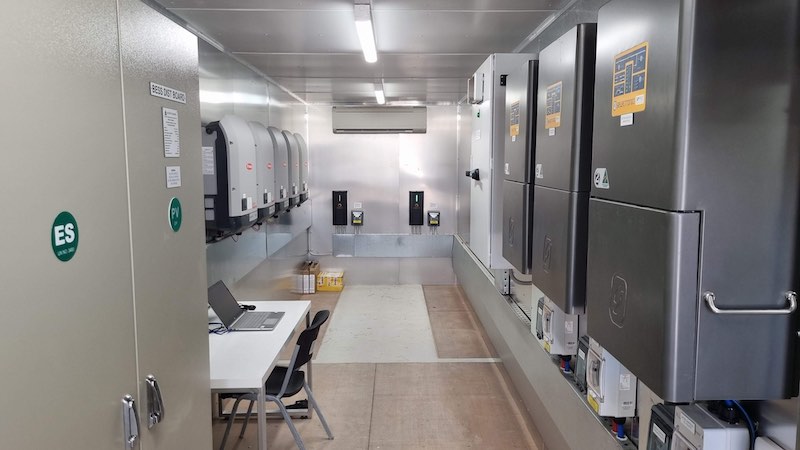 "Over the next 12 months, a review of the microgrid system and the trialled technologies will take place to evaluate the benefits, successes and learnings of the project.
"It is early days in the transition of Arkaroola to renewable energy, and the phase one solar and battery system has laid the groundwork for more renewable penetration in the years to come.
"Arkaroola is a demonstration of what's possible for other outback communities looking to set themselves up with clean, sustainable energy for the future," LePoidevin says.
It's about conservation
For the owners of the Sanctuary, the Sprigg family, the shift to renewable energy been about more than sourcing a cheaper and more reliable power supply.
Perhaps most importantly, the addition of the solar and battery microgrid starts to resolve the ethical dilemma of powering an award-winning nature conservancy with polluting and climate wrecking fossil fuels.
"Being so remote, we have to generate our own electricity and we've been doing that based on diesel fuel," says Doug Sprigg, son of founder Reg Sprigg.
"Arkaroola is about conservation, we really should be trying harder to move away from diesel, and that's what we're doing.
"Arkaroola has been a labour of love," adds Sprigg. "It's taken a lot of perseverance to cope with power outages, uncertain and expensive diesel supply as well as powering our water system.
"The microgrid resolves a decades-long challenge and we're excited for the future.
"We see Arkaroola as a public resource and ourselves as its caretakers. It's our job to protect it and share its wonders with the world."