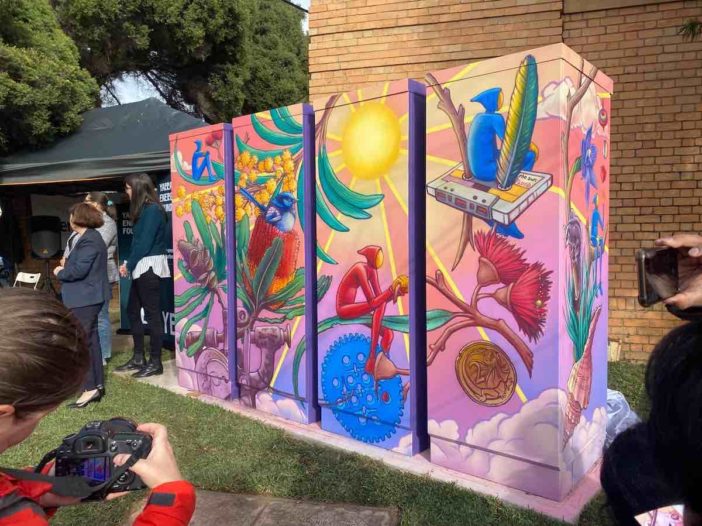 One of Australia's first, third-party independently-owned community battery energy storage systems was unveiled in Melbourne's inner north on the weekend, a 110kW/284kWh lithium-ion BESS installed by Yarra Energy Foundation.
YEF, a not-for-profit energy services outfit, officially launched the completed community battery in North Fitzroy on Sunday – World Environment Day – in partnership with Ventia and Acacia Energy, and with the backing of local utility CitiPower and of the Victorian government.
Community batteries are considered to be one of the ways that Australia's huge and growing rooftop solar resource can be "soaked up" during peak generation times in and around the middle of the day, and then shifted for use during the evening peak.
Increasingly, network companies are installing these sort of community-scale batteries on solar-heavy parts of the grid, not only to make better use of cheap solar, but to help manage potential problems of grid instability that can be exacerbated by changing voltage levels affected by rooftop solar exports.
This particular project uses a a battery from Norwegian manufacturer, Pixii, called a PowerShaper, which YEF said late last year was chosen for its energy density, small physical footprint, low noise levels and small environmental footprint – it's made from 95% recyclable battery cells produced with 100% renewables.
Dean Kline, the CEO of YEF, said the "hugely innovative" project, which is installed at the site of an inner urban power substation, will soak up excess solar generated on locally in the neighbourhood and store it for use in the evening, when the sun goes down and peak demand kicks in.
"So renewable power that's not normally available during the evening is now available to the residents," Kline said here.
Chris Wallin, YEF's commerciaal programs manager, said the team had a very simple approach to working the battery, called "one cycle a day," that charges during the day when the sun is shining and then discharges at night when people come home and switch on their appliances
"That means that a lot of the solar energy that's kept in the battery can now go into the consumption of these people in that low voltage network in that neighborhood," Wallin said.
"This technology can be replicated can be scaled …and we are using it here in the neighborhood to demonstrate that you can you don't have to buy your own [battery] and have it at home.
"You don't have to rely on some remote grid scale battery, you can have it in your neighborhood and actually capture the energy of that neighborhood," he said.
The project also marks the first battery to be installed as part of the state Labor government's $11 million Neighbourhood Battery Initiative, with $800,000 in grant funding contributing to its installation.
"This community-led initiative is just one of the ways this government is acting on climate change and leading the transition towards renewable energy so we can halve our emissions by 2030," said state energy minister Lily D'Ambrosio, who attended the launch on Sunday.
View this post on Instagram
"We have batteries on the way in Tarneit and Phillip Island and we're ready for more with $2.3 million of grants now available to get the next neighbourhood scale batteries up and running," D'Ambrosio said.
The battery has been decorated with a mural painted by Melbourne artist, Hayden Dewar.