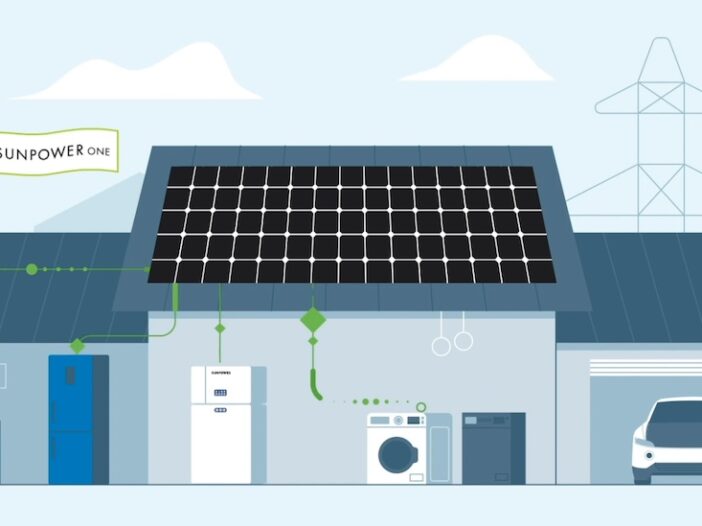 A new home energy management "ecosystem" has been launched in Australia, promising to optimise solar and battery savings by monitoring and automating the use of household appliances, including scheduled electric vehicle charging.
Nasdaq listed Maxeon Solar, a spin-off from SunPower in the US, says its SunPower One suite of products and services is now available through authorised dealers and installers in Australia, where it will be showcased at the upcoming All-Energy Australian event in October (see below for more details).
SunPower One, an offering which Maxeon has developed in collaboration with Samsung Electronics, is one of a number of home energy management systems being brought to market as solar companies evolve into experts in the electrification of everything.
Maxeon says the suite of products includes its residential solar panels, the new SunPower Reserve storage system, the upcoming SunPower Drive EV charging solution and a range of other energy services – coordinated through an app.
"The SunPower One app goes beyond just monitoring the output of a homeowner's solar panels, and proactively offers users energy insights that show in detail the devices that are consuming electricity in the home, highlighting opportunities to better utilise PV production, battery capacity, and EV charging scheduling to enhance financial savings," the company says.
The website says the app can send users notifications on how to make simple but effective changes to energy use and to how much solar energy is consumed or stored.
"For example, this might come through on your phone: 'Turn your AC down by 1° to save 6% more energy today'." it says.

"Moving beyond panels is not just about introducing new products but leveraging our technological prowess to accelerate the adoption of clean energy," said Maxeon chief product officer, Ralf Elias, in a statement.
"Our investments in improving the digital experience of our customers, combining industry-leading easy-to-install hardware with innovative services, and expanding the solution with integrations like Samsung SmartThings all help to solve pain points for consumers and installers."
Australian customers will get the latest about the SunPower One Home Energy Experience at Maxeon's booth, VV131, during All Energy Australia, this October 25-26.