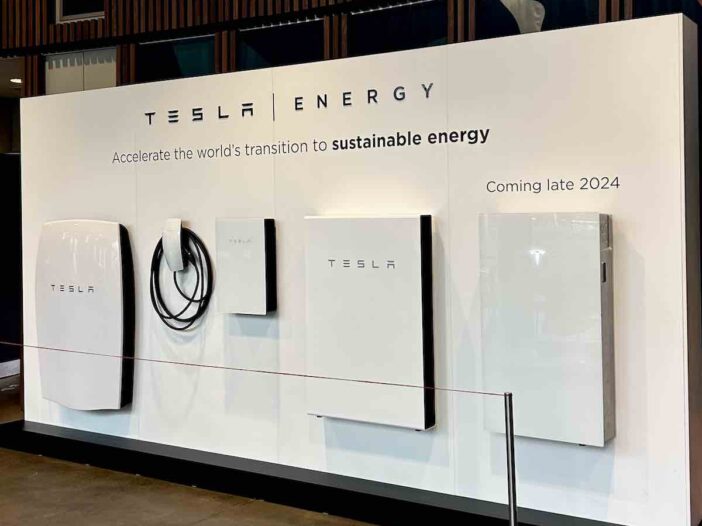 Tesla has narrowed down the timing of the arrival in Australia of its hotly anticipated new home battery, telling local installers to expect to start taking orders for the Powerwall 3 in late 2024.
Tesla hosted its first ever Australian Installer Day last month in Sydney, giving the industry hands-on access to the suite of Tesla home energy products and a chance to work and chat with product experts.
The event served as the Australian unveil of the Powerwall 3, which officially opened for orders in the US several weeks ago promising a more powerful and efficient 13.5kWh home battery with bolstered back-up power credentials.
Sources report that the day started with a keynote presentation showcasing a live Powerwall 2 installation that was completed in an impressively quick 14 minutes (see image below).
The day also hosted five breakout sessions which included hands-on booths demonstrating Wall Connector and Wiring & Multi-Powerwall setups.
But the star of the day was undoubtedly the Powerwall 3, stirring interest and raising some key questions about where the new home battery offering from the US giant will fit in the burgeoning home battery market.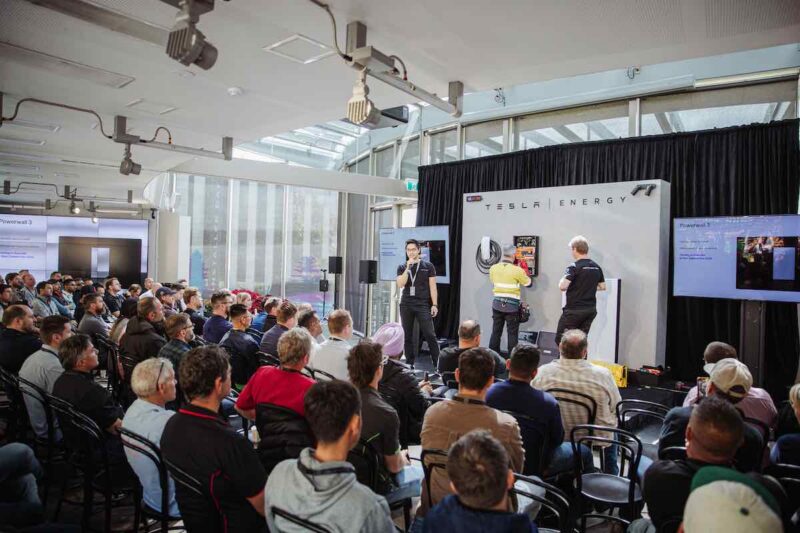 Not for everyone
As One Step Off The Grid reported here, the Powerwall 3 makes its biggest departure from the Powerwall 2 by including a fully integrated solar inverter, making it incompatible with any other solar inverters – and unable to be installed alongside previous Powerwall models.
This was a talking point among installers at the Tesla event in Sydney, with some speculation that the inbuilt inverter could make the Powerwall 3 somewhat of a niche product in the Australian market.
"Tesla Powerwall 3 is not going to be for everyone," said Lightning Energy's Luke Cove in a video the company recorded at the Installer Day.
"It's going to be a specific product for a specific installation and, for a lot of other people – probably 95% of people – I would say the Powerwall 2 will probably do the job just fine," Cove says.
Jake Warner from Penrith Solar Centre says in the same video that he still has some unanswered questions about the Powerwall 3 ahead of its Australian launch.
"Obviously, we're going to implement it, but we don't know the specs on it just yet. So there's questions for me," he says to Cove, adding that his main question would be: does the new battery work with Enphase micro-inverters?
"Because that's important," Warner says. "I'm not going to substitute the best solar inverter in the world for a battery. I don't think – especially when they're gonna keep Powerwall 2 around."
"I have actually asked questions about the Enphase and the Solar Edge [inverters] as well," says Cove. "A lot of people want these options.
"I can't see how it will work with Enphase," he adds. "The Tesla tech I spoke to wasn't able to answer that question, whether it would or not, but personally, I can't see how it would."
"It's interesting," Warner adds. "I think [Powerwall 3] can possibly work with Enphase, but you're going to always have that hybrid inverter on site so that that would be a waste of resources to have micros and the hybrid inverter on site, but time will tell."
[*Note the Tesla specs page for the Powerwall 3 on the US website says it is "not compatible" with other inverters.]
Another Powerwall certified installer who attended the event in Sydney, Derek McKercher from PSW Energy in Perth, says the way he will explain the difference between the two batteries to customers is by telling them that it's like comparing a Tesla Model 3 car to a Tesla Model Y.
"They're two different models for two completely different target audiences," he tells One Step Off The Grid.
"One is more like a family car, the other is more sleek."
Powerwall 2 likely to continue its reign
McKercher believes – based purely on his own educated guesswork – that the Powerwall 3 will be more expensive than the Powerwall 2 – perhaps by as much as 20% to 30% – largely due to the fact that it packs more into its smaller frame, including the inverter.
And he says that, for all of the above reasons, it's highly unlikely that Tesla would discontinue production of the highly popular Powerwall 2.
"You've now got … something that's been a huge success in the market [with] over 500,000 installations. So I think speculation on it phasing out beyond 2024… I can't see it happening," he said.
"What's important is the market we're in right now is a storage market," Warner says.
"You know, it's important for people not to get fixated on this Powerwall 3 and say they are gonna wait a year and a half because … what's your Powerwall 2 going to save between then and now."
Push for more installers as manufacturing ramps up
Warner says that the key message from Tesla at the Installer Day was that it wants as many people as possible to be skilled up and officially certified to install Powerwalls as the company works to "10x" the global shift to renewables.
McKercher agrees that this is the main purpose of Installer day; to recruit additional team members to help drive the penetration of Tesla's products in the market.
"At the moment, that's where the bottleneck is," McKercher tells One Step.
"Maybe about a year ago, it was quite difficult to get hold of [Tesla Powerwalls]. We would have to get our orders in at least three months in advance.
"But now we can… order on demand and expect [deliveries] as required. So they're definitely ramping up their assault on the market.
"They've got the supply chain sorted out now, so it's really about the implementation – and so they need adequate installers."
"[There's a] four-times Powerwall production increase currently going on right now and they want to 10x the uptake of renewables," Warner says.
"I don't think anyone's accelerating the world's transition to sustainable energy quite like Tesla," he adds, "so keep up the good work."
[Note: One Step has reached out to Tesla to confirm whether or not it will continue to manufacture the Powerwall 2 alongside the PW3. According to the US Powerwall 3 site it looks like the answer is yes. Alongside the note that the PW3 is incompatible with other inverters it says: "Powerwall 2 can be added to existing solar systems, installed with as part of a new solar system, or on its own. Powerwall 2 is compatible with all major solar inverters and supports various system sizes."]