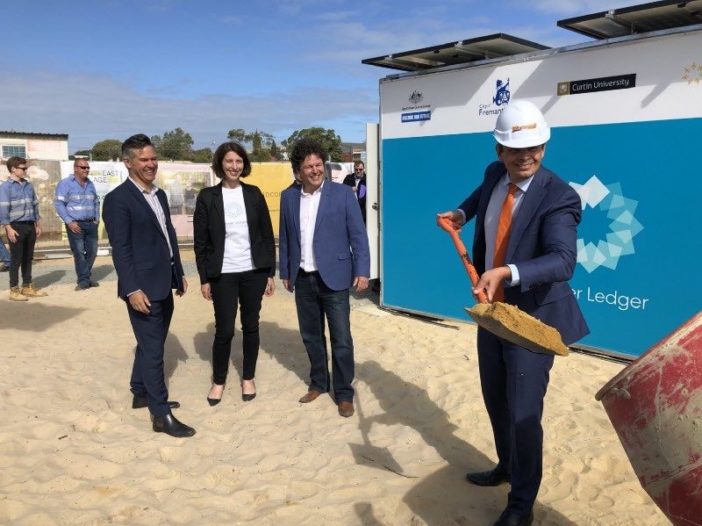 A 100 per cent renewable residential development has been unveiled in Western Australia, featuring blockchain-ready solar homes, a microgrid supply network for water and power and – in what is being claimed as an Australian first – a shared on-site 670kWh battery.
The solar and battery powered housing estate, called East Village, has been developed by LandCorp at Knutsford – a former industrial site just outside Fremantle's city centre – in partnership with Perth-based Power Ledger, and the federal government's Smart Cities and Suburbs initiative.
The W.A. government, which has also supported the project, said on Tuesday that residents in East Village's 36 townhouses would generate their own power using 5kW rooftop solar systems, share renewable energy across a micro grid, and have their own electric vehicle charger.
The communal battery – which was supplied by P2P trading software specialist Power Ledger, but will ultimately be owned and shared by the village's individual homeowners – was installed and commissioned for use during construction works to supply power and reduce the carbon footprint of the project.
Pictured above in a close-up, the BESS features 117 Alpha-ESS batteries among a host of other critical infrastructure to deliver the 670kWh of power, according to BT Energy.
Water saving measures will include storm-water harvesting, a strata-owned bore and the use of rainwater for residential toilets, hot water systems and laundries, reducing mains water consumption by up to 80 per cent.
The site will also feature a prototype house by Perth company Mirreco, using sustainable building materials including panels made of compressed hemp and polymers.
All of this will be tracked and assessed by an on-site living laboratory, in partnership with Curtin University, with the aim of building a dataset to demonstrate the value of using solar, batteries and smart energy technology in housing.
Power Ledger expects the residents of East Village to collectively save more than $40,000 a year on electricity bills.
"The property industry is in a unique position to drive energy change from the ground up," said David Martin, managing director and co-founder of Power Ledger.
"This project highlights how developers can choose to make smarter, more efficient choices when it comes to homes.
"Power Ledger's platform allows residents to sell excess solar power from the panels on their roofs directly to their neighbours at a better price, rather than selling back to the traditional grid."
Indeed, Power Ledger has worked closely with the property development industry – including LandCorp – for a number of years now, over the course of the development and commercialising of its peer-to-peer trading platform.
In August of 2016, the company began trials of its blockchain-based software program in conjunction with National Lifestyle Villages, on the Western Power network.
As Power Ledger co-founder Jemma Green explained back then, the company's technology works, like bitcoin, to identify the ownership of energy as it is generated and then to manage multiple trading agreements between consumers who buy excess solar direct from the original owner/producer, without the addition of market costs and commercial margins.
"It's a software program that tracks the movement of electricity from point to point," Green said in an interview with One Step Off The Grid. "It handles the financial transactions off the back of it as well.
"Presently, if you've got surplus solar electricity you sell it back for a low feed-in tariff and buy it back (from the grid) for a high rate. Using (Power Ledger), you can sell it to your neighbour at somewhere between the two" – less than the uniform tariff but more than you would get from selling it to their retailer.
The company then launched its platform more broadly at the White Gum Valley housing project in December 2016 – another collaboration between Curtin University, LandCorp, Western Power, and the City of Fremantle.
Various other peer-to-peer (P2P) trading trial have followed, both across Western Australia as well as in Thailand, Japan and the United States.
W.A. energy minister Bill Johnston said the East Village at Knutsford development was expected to provide new insight into the future of greener and cleaner powered homes.
"Every aspect of this innovative project is set to challenge our thinking when it comes to powering the next wave of residential development in our city," the minister said in comments on Tuesday.
"The 670 kilowatt-hour battery is the first in Australia to power a residential construction site and it will ultimately be the very heart of this community, which is designed for people of all ages."
(To that end, the village is also being designed to be adaptable and allow for home offices or granny flats to support multi-generational living.)
State treasurer and lands minister Ben Wyatt said the government was looking forward to seeing how the solar energy sharing, sustainable community would work.
"LandCorp is leading by doing, and this project demonstrates to the wider construction industry just what is possible in creating connected and affordable communities," Wyatt said.
"Our government will continue to invest in transformative projects like this to create a new way of living in our suburbs."