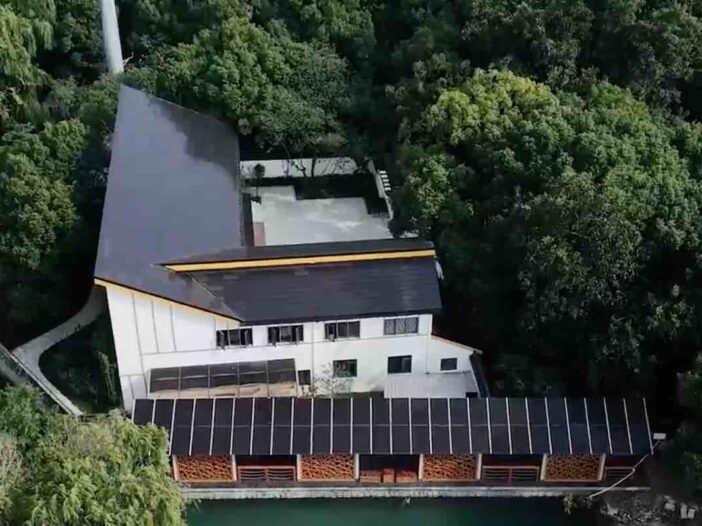 A solar PV demonstration project has been unveiled in China using Trina Solar's Vertex S+ Clear Black solar modules – a semi transparent, all-black panel that won a German Design Award this year.
The PV corridor demonstration project was unveiled this week at the Yangtze River Delta Institute For Sustainable Development in Shanghai, an R&D facility jointly established by Tongji University and members of the Eight Universities Alliance and other local research institutes.
The 26.66kW project, integrated into the existing building as an awning used to shade a walkway, is expected to generate 26,853 kWh and reduce CO2 emissions by 22.5 tonnes a year.
It has been designed to complement the Institute's gardens and low-carbon environment – electricity generated by the PV corridor will be used to power daily operations at the Institute's exhibition centre.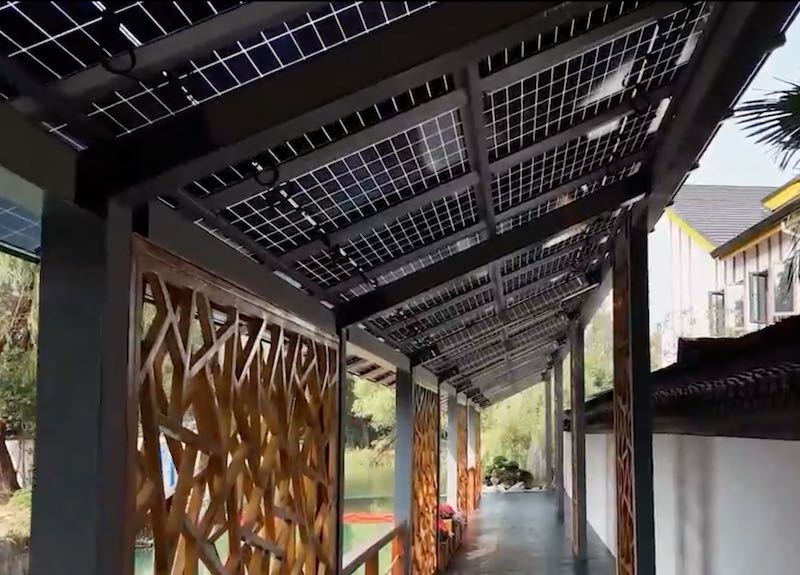 "The sleek, clear black design of the Vertex S+ modules allows the sun to shine through and seamlessly blends with the surroundings, bringing harmony and eco-consciousness to every step you take," a Trina Solar LinkedIn post says.
"As we continue to innovate and champion clean energy solutions, this project serves as a shining example of our commitment to creating a low-carbon, healthy, smart and comfortable environment.
Trina's Clear Black 445W modules were launched earlier this year and boast an efficiency rating of up to 22.3%. The award-winning design of the modules allows the sun to shine through the panels while generating power.
The n type i-TOPCon Vertex S+ Clear Black panels incorporate a bifacial cell technology with transparent ultra-thin dual-glass encapsulate making. Trina says this panel composition makes Vertex S+ more durable and fire safe and more environmentally friendly, reducing carbon emissions during production by 11%.
Combining 210mm rectangular silicon wafer cell technology with n–type i-TOPCon advanced technology, the Vertex S+ series of modules deliver higher power, efficiency, and guaranteed lifetime power output.
Trina Solar guarantees the modules with a 30-year power warranty and 25-year product warranty.