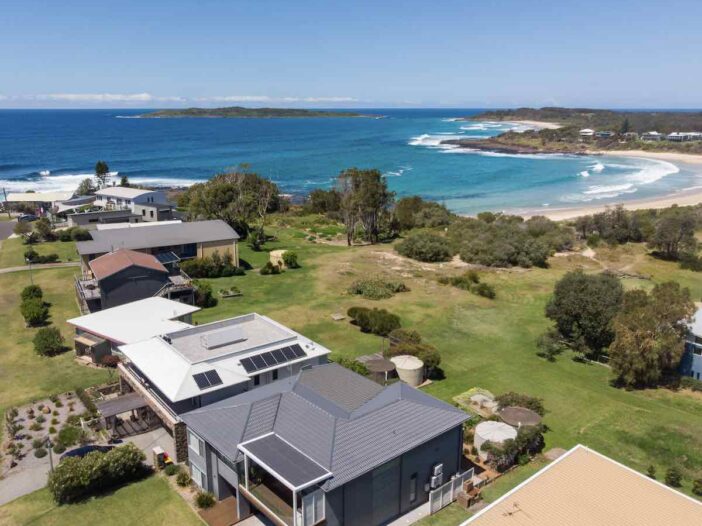 New South Wales distribution network company Endeavour Energy has completed the first phase of construction of a "first-of-a-kind" community microgrid designed to power two coastal communities during grid outages.
Endeavour Energy says around 100 homes in Bawley Point and Kioloa have been fitted with solar and/or batteries, on track provide a reliable – and "islandable" – renewable electricity supply to the town.
The "islandable" part of the equation means the $8 million microgrid can act as a self-contained energy system during emergencies, harnessing electricity from home panels and batteries, and a 3MW grid-connected battery strategically positioned between the two communities.
Endeavour Energy chief Guy Chalkley says the microgrid forms part of the network's strategy to make isolated communities more resilient to an increasingly unpredictable and harsh climate, while also laying the foundation for the future renewable grid.
Chalkley says both Bawley Point and Kioloa, which sit at the fringes of the Endeavour Energy network around 250km south of Sydney, are ideal candidates for reliable renewable microgrid power.
"These two towns, like many other rural and regional communities across Australia, are vulnerable to catastrophic weather events," he says.
"The grid independence provided by this microgrid becomes essential for their survival and safeguarding our regional communities.
"What makes this microgrid the first of its kind is the customer centric and integrated approach to planning – we can call upon a customer's energy resources such as rooftop solar and batteries to add resilience to the network and the community's power supply."
And while this sort of microgrid might be a first for Endeavour Energy, it is one of many being proposed, planned and rolled out by network companies all around Australia, in a bid to offer fringe of grid communities a more reliable, less costly and more sustainable power supply.
Research published last year by the University of Technology Sydney found that installing renewable energy-run microgrids as a back-up power source could ensure regional communities weren't cut off from critical energy, fuel and food supplies when disasters like bushfires and floods strike.
And a project launched last year and led by the Australian National University has been assessing the feasibility of transitioning a number of regional NSW communities from grids exposed to bushfires and other natural disasters to a resilient network of islandable renewables and battery-based microgrids.
The Endeavour Energy micorgrid project is being supported by the NSW government's Bushfire Local Economic Recovery Fund, while the Shoalhaven City Council has supplied the site for the microgrid's battery that will ultimately replace the diesel generator currently used to support local electricity supply.