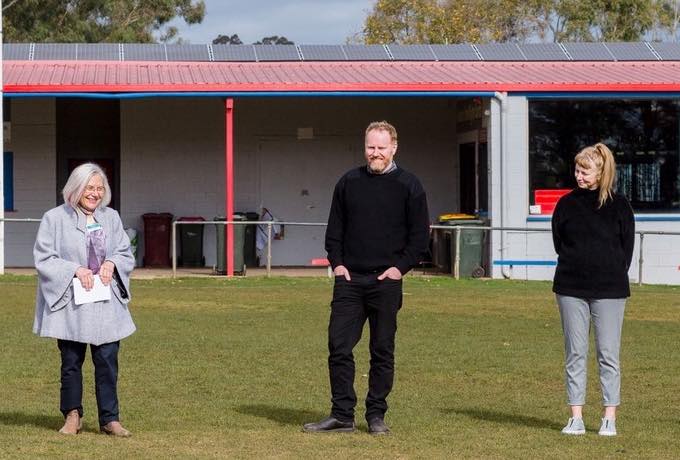 A community sports centre in the central Victorian town of Hepburn has been given a solar and battery makeover that will slash the facility's power costs while also bolstering its role as a dedicated place of last resort in the event of a bushfire.
The 25kW solar array and 13.5kWh Telsa Powerwall 2 battery system installed at the Hepburn Recreation Reserve will supply all of the facility's power during summer months and offer protection from grid outages.
The $31,818 cost of the solar and storage system was contributed to by the Hepburn Shire Council ($12,000), local community renewables outfit Hepburn Wind ($4,500), and the Central Victorian Greenhouse Alliance ($15,318) with $12,500 of that amount from a Bank Australia grant and $2,818 from the Hepburn Solar Bulk-Buy.
It was installed by Specialized Solar, a Clean Energy Accredited Solar Retailer and supplier to the bulk-buy programs organised by the Central Victorian Greenhouse Alliance.d by the fires."
"During emergency events it is common for the electricity grid to go down, making it harder for designated Neighbourhood Safer Places, like the Hepburn Recreation Reserve, to maintain basic support services," said Rob Law, executive officer at the Central Victorian Greenhouse Alliance.
"This solar and battery system is designed to operate if the grid goes down which will enable the Hepburn Recreation Reserve's to maintain critical functions during an emergency.
The solar system will generate an average of 88kWh a day, and with the Powerwall is equipped to provide at least one day of power autonomy, or more depending on weather conditions. It can also work independently of the network for any duration.
"After the Hepburn fires it is important that this community asset is comfortable and a refuge during fire events, as well as ensuring the sporting teams and other community groups that use the site have a constant supply of clean energy," said Taryn Lane, manager at Hepburn Wind.
"We're really proud to help fund this project through our Impact Fund, demonstrating what's possible for the future of our communities," said Jarrod Troutbeck, Senior Sustainability Consultant at Bank Australia.