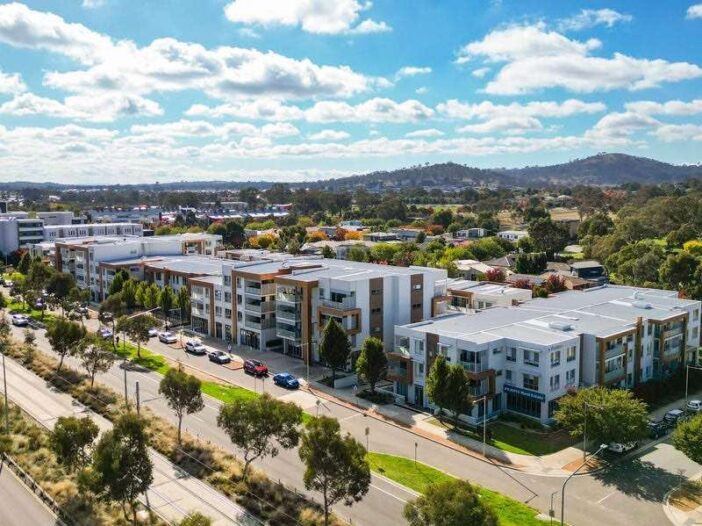 A joint funding initiative from the federal and ACT governments will address one of the final frontiers of universal rooftop solar uptake – apartment buildings.
Around 3.5 million Australian households, and rising, currently enjoy the benefits of rooftop solar – namely significantly reduced electricity bills. But the problem of how to extend these benefits to renters and residents of apartment buildings and other shared accommodation remains a stubbourn barrier to true solar democracy.
As part of its 2023-34 budget, the ACT has announced a new plan to change that, through rebates and concessional loans to multi-dwelling body corporates, incentivising the installation of shared solar systems.
With $3.6 million in funding from the Albanese government, body corporates will have access to up to $100,000 towards the cost of installing rooftop PV, half through a Commonwealth rebate or grant and half from an interest-free loan from the ACT government's Sustainable Household Scheme.
It is expected that more than 2,100 households will benefit from the new incentive, including from a potential 35 per cent reduction in electricity bills for Canberrans living in apartments.
The federal funds come from the Albanese government's "solar banks" component of its Powering Australia Plan, which promised to cover 50% of the capital costs to get rooftop solar onto the estimated one-third of households effectively "locked out" of the market – a number that includes renters alongside apartment dwellers.
Much of the cost of shared solar systems comes down to extra technology and installation measures – necessary to share the energy generated by the panels between the apartment residents.
There are technologies to do this – including from highly successful Australian company Allume Energy, which in 2019 allowed 52 low-income households in an apartment block to share solar and storage – but the costs and logistics can be prohibitive.
"This will make a big difference to those stratas, to those apartments thinking about whether to go down the solar road …wanting to, but finding it very difficult. This will make a difference to those decisions," said federal energy minister Chris Bowen on Monday
"We know that renewable energy is the cheapest form of energy.
"This investment in ACT renters and apartment owners, who can't currently access cleaner, cheaper solar, will ensure that everyone can reap the rewards of the clean energy transformation."
For the ACT government, the incentives for solar apartments are part of an $80 million boost for the Sustainable Household Scheme in the 2023-24 ACT budget.
Much of that $80 million will be used to fund incentives home energy upgrades beyond solar, including switching out old gas appliances for efficient electric ones.
The portion of funding dedicated to solar in this budget has been restricted to homeowners who "most need government support," the ACT has said.
"It's not for your multimillion dollar apartments that nestle around Parliament House; it will be a lot more focused on suburban Canberra and I think also older unit title properties that may not have been built or certainly weren't built with solar in mind," said ACT chief minister Andrew Barr.
"We are committed to continuing to be a global leader in climate action, and this new program supports apartment households to share the benefits of solar.
"It exemplifies our commitment to transitioning to a cleaner and more reliable energy mix towards our goal of reducing emissions to net zero by 2045," Barr said.
Eligibility for the program will align with the solar eligibility for households under the Sustainable Household Scheme, for which 92% of apartments are eligible. Applications will open in in the second half of this year.