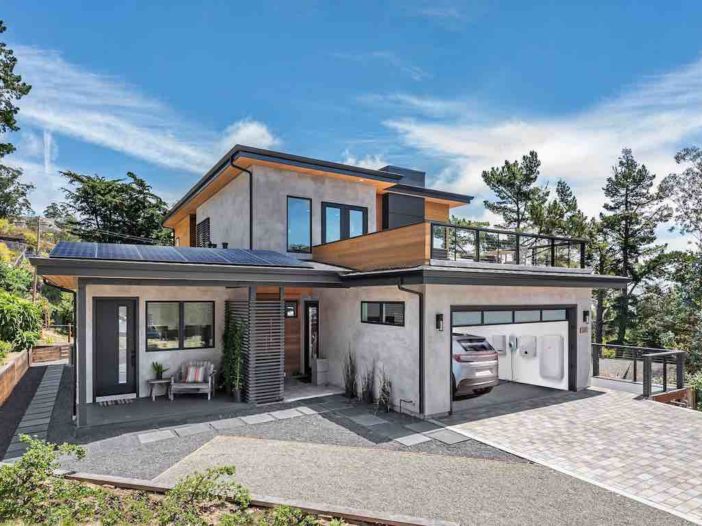 The solar industry-wide push to all-in-one integrated smart home energy solutions is rapidly gaining momentum, with the launch this week of a new offering from leading global inverter company SolarEdge.
SolarEdge, which had a big presence at this week's All-Energy conference in Melbourne, announced on Friday the Australian launch of a DC-optimised "smart energy ecosystem" that promises to get the most from solar and battery systems, both on energy cost savings and energy security.
The arrival of SolarEdge Home follows roughly eight months after the Israel-based company launched its residential battery system in Australia, alongside a new Energy Hub inverter with the ability to provide back-up power during grid outages.
As One Step reported at the time of the battery's March launch, the lithium-ion system provides 9.7kWh of storage capacity and can be connected with up to three batteries per inverter, delivering up to 29.1kWh of backup capacity.
The battery also has a round-trip efficiency of 94.5 per cent, which is superior to the Tesla Powerwall and – according to SolarEdge's tech guru James Sturch – makes it a better value proposition that almost any solar and battery combo on the market when combined with the Energy Hub inverter.
Sturch, who is technical director RoW (rest of world) at SolarEdge, says the company's integrated offering is generating consumer interest on par with the new battery, which he told One Step in September had already notched up sales north of 1,000 in Australia.
Building a smart home over time
SolarEdge Home brings together the inverter and battery with power optimisers, a backup interface, and other smart energy devices like the SolarEdge EV charger, hot water controller, load controllers and smart switches.
All of this can then be controlled via the mySolarEdge app, allowing homeowners to schedule and track their energy usage and savings, and to factor in such variables as fluctuating energy prices.
SolarEdge says a key to the success of its smart home ecosystem is the connection of the inverter and the battery on the DC side, thus boosting solar self-consumption by eliminating unnecessary power conversions typical of other battery-coupled systems.
This approach also allows for longer power backup and reduces dependency on the grid by enabling reliable multi-day battery backup, SolarEdge says.
But Sturch notes that one of the key advantages of SolarEdge Home is that consumers can build the system over time. And he reckons the best way to go about this is to start with a big solar system – "fill your roof" – paired with the Energy Hub inverter and a hot water controller, because "that's the cheapest form of storage."
Later, households can add the battery – which Sturch estimates will cost around $12,000 on its own, installation included*. That option will be particularly attractive to existing SolarEdge customers, who can get upgraded to the new inverter for free if they decide to add a battery to the mix.
A sophisticated, elegant solution
"In terms of cost benefit for consumer and return on investment, I can't see how any other solutions can compete, because they're not DC coupled," Sturch says.
His own household in northern NSW, which has served as a testing ground for the SolarEdge Home platform, is consistently achieving 98% solar self-consumption, despite fairly hefty energy use, including a couple of electric cars.
"It's all about efficiency, maximising self consumption and extended blackout protection," Sturch tells One Step.
"It's a very sophisticated, elegant solution, all based around our proprietary [software] that's built on the back of mobile phone technology.
"This makes it really simple for the home owner," he adds, allowing them to 'set and forget' while the inverter does the work on controlling loads, maxmising solar self-consumption and minimising grid exposure to high prices.
One-stop shops for smart energy homes
This sort of all-encompassing energy "future proofing" – insulating consumers against energy market fluctuations outside of their control, while also setting the foundations for an ongoing evolution of home power supply – is quickly becoming a key focus of the solar industry.
Earlier this month, a European conglomerate including Porsche Ventures, a founder of Tesla's European operations, and the co-founder of German battery giant Sonnen, Christoph Ostermann, unveiled plans to spend $100 million in Australia and the APAC region establishing the presence of its 1komma5° venture – a one-stop-shop to bring "CO2-neutral life" to homes and small businesses.
And while this journey most often starts with solar and battery storage – either installed on a wall or housed within an electric vehicle – it's more broadly about electrification and smart controls.
"There's so many products and a lack of one-stop-shops that have the ability and the capital to bring those all under one umbrella," said Chris Williams, the CEO of Natural Solar, 1komma5°'s first retail and installer partner in Australia.
'Energy resilience in all seasons'
Smart controls are well and truly in SolarEdge's wheelhouse, so the company is well-placed to claim a stake in the burgeoning home energy management market.
The company is also promising an easier solution for industry, with the promise that SolarEdge Home simplifies the installation and commissioning process, including via wireless plug-and-play connectivity between components.
"SolarEdge Home is designed to meet homeowner needs for greater energy resilience in all seasons," says the company's Australia country manager, Gavin Merchant.
"By offering more renewable energy applications, homeowners increase self consumption while installers form higher-value relationships."
*This article has been corrected to show that the cost of a SolarEdge Home battery with installation is roughly $12,000. The article originally said $9,000.