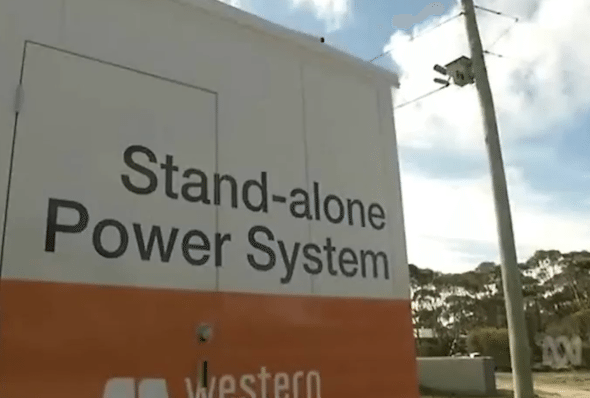 Western Australian utility Western Power has installed six stand-alone solar and battery storage power systems at six different properties around the state as part of $4 million pilot project which aims to shape the future of how electricity can be delivered to rural and remote customers.



WA energy minister Mike Nahan said on Monday that six properties located around Ravensthorpe, Lake King and Ongerup, would trial the new stand-alone electricity systems which were made up of solar panels, battery storage and back-up diesel generation, while remaining connected to Western Power's grid
Over the course of the 12 month pilot, participating households will document the experience of having their electricity supplied via the stand-alone system rather than via the traditional poles and wires.
Energy Made Clean, which constructed the systems and will maintain them, has developed an app that will allow customers to view their power consumption and system performance in real time.
The project – which is being delivered at no up-front cost to the property owners through a partnership with Western Power, regional electricity provider Horizon Power and electricity retailer Synergy – is the second of its kind for the state, after Horizon Power installed five stand-alone systems for customers affected by the Esperance bushfires.


As we have reported here before, Western Australia's network operators face a unique challenge in Australia – and perhaps even the world – as they work out how best to cater to a huge, but often sparsely populated service area.
"When I refer to edge of grid, I'm talking about edge of the edge of the grid," Western Power's head of asset management, Seàn McGoldrick, told a conference in May.
"And there's a lot of it. Customer density is so low, it's practically impossible to make a cent."
Horizon Power, meanwhile, averages one customer every 53 square kilometres and already operates 37 microgrids ranging from 30MW peak load to 100-150kW, most of them diesel-power based.
Western Power's new stand-alone power system pilot hopes to come up with better, cheaper solutions.
"The pilot will help us explore the right mix of technology and service to make stand-alone solutions another option when maintaining or replacing ageing power poles and lines," said WA energy minister Mike Nahan in a statement on Monday.
"Western Power is using its expertise to provide the right power solutions for the right customers and Horizon Power, with its knowledge in microgrids, led the engineering and procurement process for the project," he said.
"If the trial is successful, Western Power will investigate the future use of the systems as part of a solution for other edge-of-grid customers."