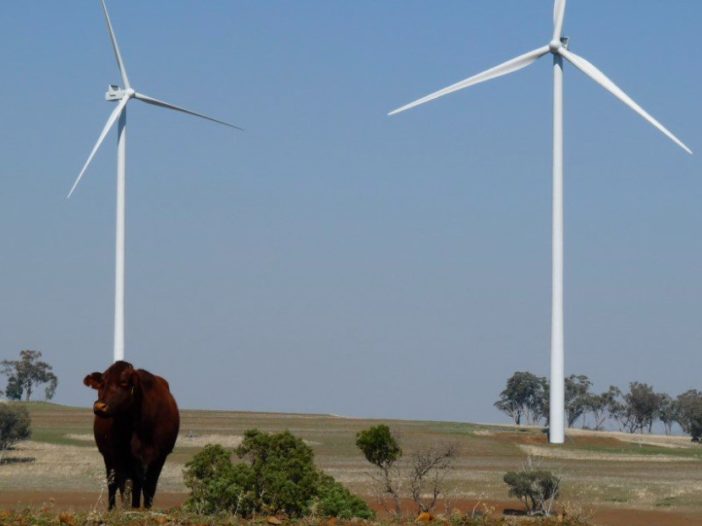 The Sapphire Wind Farm – one of the New South Wales renewable energy projects that made news this week for being contracted to help power the Sydney Opera House – has launched a new community investment round.
The developers of the 170MW wind farm – a joint venture of CWP Renewables and Partners Group called Grassroots Renewable Energy Trust – said last week they were extending the New England-based co-investment initiative to all residents from NSW and the ACT.
The offer – via "fractional investment" specialist DomaCom – offers a return on investment of 6 per cent per annum, paid quarterly over nine-and-a-half years; significantly more bang for your buck than the current cash rate, as CWP quipped on Twitter yesterday.
With today's drop in cash rate, our community co-investment initiative just became even more attractive. 6% folks! https://t.co/AHk49dXr6J

— CWP Renewables (@CWP_Renewables) June 4, 2019
A minimum investment of $1,250 is required (maximum investment of $200,000) and the offer – targeting a total of $3 million – closes on June 30.
The fully operational Sapphire Wind Farm is located near Glen Innes in northern NSW (Barnaby Joyce's electorate), with 100MW of its capacity contracted to the ACT government, as part of the Territory's 100 per cent renewable target for 2020.
Another 50MW of the project's capacity was contracted earlier this year to renewable energy retailer Flow Power, which – as we reported yesterday – has now sealed a deal with the Sydney Opera House.
Under that deal, the Opera House will buy 16 gigawatt hours of wind and solar output a year from both Sapphire and the Bomen solar farm, also located in NSW.
In a statement, CWP and Partners Group said DomaCom had developed an online 'fractional investment' platform adapted for the Sapphire Wind Farm Community Co-Investment, to target a broader investor pool.
"We believe in sharing the benefits from our projects," CWP Renewbles' Andrew Dickson said in a statement last week.
"Community co-investment allows everyday people to invest in our projects, alongside institutional investors," he said.
"We believe that a return of 6 per cent represents a good investment, and it is much higher than the bank rate.
"Participation …also provides the satisfaction of contributing to the creation of good jobs and clean energy in regional areas," he said.