New South Wales government-owned electricity distribution company Essential Energy is trialling the use of renewable hydrogen in a remote stand-alone microgrid to power a heritage cottage in the Myall Lakes National Park.
The 18-month trial, which is being conducted in partnership with the NSW National Parks and Wildlife Service, will use a combination of solar PV, a battery and hydrogen electrolysers, fuel cells and storage to power the visitor accommodation.
Solar and battery storage based stand-alone power systems, or SAPS, are increasingly being used by utilities as the go-to off-grid power source for remote parts of Australia, most commonly in the Northern Territory and in outback Western Australia.
Adding hydrogen to the mix, however, is unusual.
A bid to ditch diesel
Essential Energy chief operating officer, Luke Jenner, says the decision to use hydrogen for the Cutler's Cottage SAPS was taken in a bid to eliminate the need for back-up generators – usually powered by costly and polluting diesel fuel.
The technology for the SAPS, first developed in Germany, consists of 23kW solar panels, a lithium-ion battery, hydrogen electrolysers and fuel cells and hydrogen storage of up to 20 days (425 kilowatt hours), supplied by ASX-listed GreenHy2.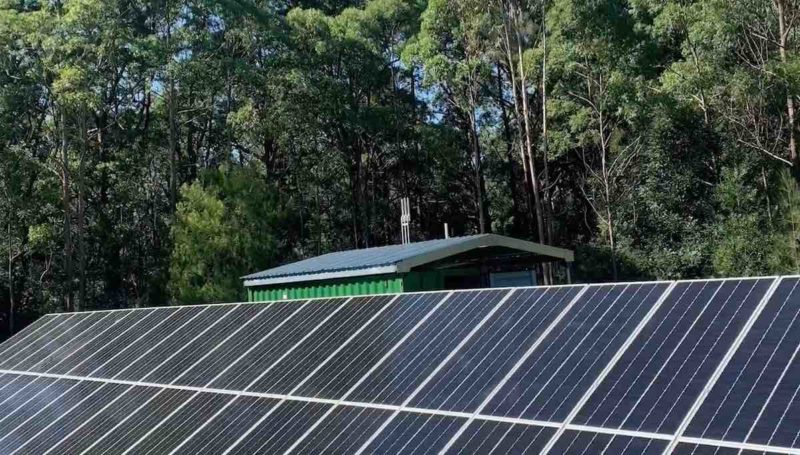 The SAPS delivers energy to the Cottage like a regular rooftop solar system, with excess power stored in both the battery and also as hydrogen for conversion into electricity at night or when loads are high.
More specifically, solar power is used to convert water to hydrogen, which is stored in a solid state as a metal hydride in a stand-alone modular unit. When needed, the stored hydrogen is converted back in to electricity via the fuel cell.
Jenner says that since the SAPS was commissioned, with a bit of tweaking of power flows, the combination of solar, battery and green hydrogen has so far met expectations and is delivering reliable power to the cottage.
"This trial is going to equip us with a range of knowledge, including better understanding of best use cases for Hydrogen SAPS, as well as other factors such as site preparation, expected reliability levels, and opportunities to improve our internal skills," Jenner said.
"We hope the trial, which concludes in 2023, will help us better compare Hydrogen SAPS possibilities to existing SAPS configurations which deploy lithium ion batteries.
"The trial will also help to identify and mitigate risks and get a feel for what risks and benefits may present."
Less poles and wires
Atticus Fleming, from the NSW Department of Planning and Environment NPWS says his team are keen to see how effective hydrogen can be in removing the nearly 6km of powerlines that usually delivers power to the Cottage.
He says getting rid of those powerlines, which travel through dense bushland and over land subject to flooding, will be a huge win, offering improved reliability for the Cottage's guests as well as reduced bushfire risk.
"The NPWS is uniquely placed to trial innovative renewable energy solutions as both a climate-action leader in Australia and the custodian of visitor facilities in many remote and wilderness locations across NSW," Fleming says.
"A key pillar of our [Carbon Positive Plan] is embracing new energy technologies to deliver low-impact visitor experiences and preserve the natural environment."
As well as boosting natural disaster resilience for the Cottage, Jenner says the microgrid stands to deliver significant savings for Essential Energy – and thus for its customers – through the avoided costs of managing power poles and powerlines, including vegetation management.
"The site has good access and we already had its load profile at a granular level following previous consultation with NPWS and a neighboring private site (already utilising an Essential Energy SAPS) so it makes a good candidate to measure what the system can deliver in Essential Energy's solution offerings," Jenner says.
Meanwhile, on the other side of Australia…
Elsewhere, Western Australia utility Horizon Power has just last month completed development of a renewable hydrogen demonstration plant in the coastal town of Denham, where it, too, will test the viability of using the emissions-free fuel as a baseload power source.
As One Step Off The Grid has reported, Horizon Power commissioned the 348kW electrolyser, hydrogen compression and storage system and a 100kW fuel cell as part of a renewable microgrid combining wind, solar and battery storage.
The plant, which produced its first hydrogen in October, was designed and built by Hybrid Systems Australia, in partnership with fellow Pacific Energy subsidiary ENGV, alongside a 704kW solar farm dedicated to powering the hydrogen production.
Once fully operational in early 2023, the $9.3 million project is expected to be able to power around 100 households or 20 per cent of Denham's residents and businesses and offset around 140,000 litres of diesel a year.