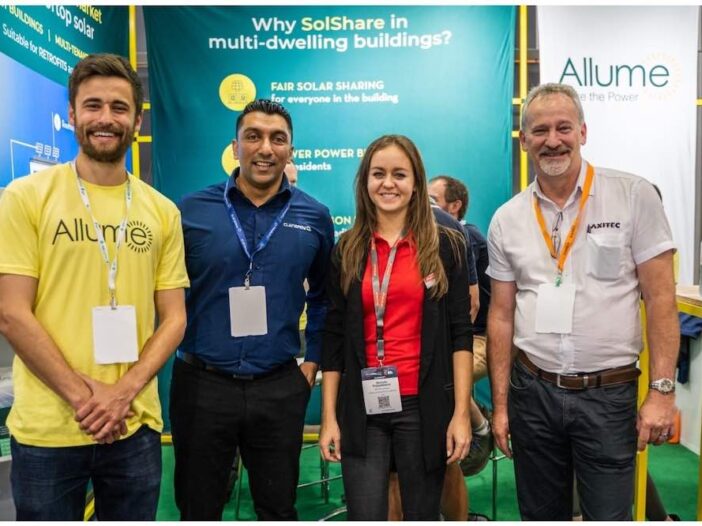 Four companies have joined forces to make solar for multi-tenant social housing buildings more affordable – and more easily accessible – through a reduced-cost package of equipment and technologies.
The package centres around the technology of Melbourne-based Australian innovators, Allume Energy, whose SolShare solution is used around the world to allow multi-tenanted buildings to share the benefits of rooftop solar.
But SolShare is just one part of the equation – for the rest, Allume has teamed up with Axitec Energy, Clenergy and Fronius Australia to add the solar panels, roof mounting equipment and smart meters.
The resulting "'Solar Social Housing Package" winds up offering a total discount of around $3,750 on the cost of installing shared solar for an apartment building, although the partnership says it is currently negotiating an even better deal.
"It is crucial that apartment residents can access clean, affordable energy, particularly social housing tenants, who are often disproportionately affected by the rising cost of energy," said Allume CEO Cameron Knox.
"Communities shouldn't have to decide between putting food on the table and heating their homes."
For its part in the package, Axitech Energy will provide solar modules at a discounted price, while Clenergy will bring discounted solar mounting systems to the party; Fronius, discounted inverters.
"To have the opportunity to assist these tenants become more financially sustainable with clean renewable energy is a proud moment for us," says Fronius Australia managing director Mariella Doppelbauer.
The solar for social housing partnership comes as governments all around Australia – and the globe – are being compelled to turn their focus to cost of living, including soaring energy prices, and housing availability and quality pressures.
Solutions like solar powered apartment blocks address both of these issues while also tackling housing emissions and, therefore, climate change. So they're an obvious policy win-win.
To this end, a joint funding initiative from the federal and ACT governments was last month announced, offering rebates and concessional loans to multi-dwelling body corporates that install solar in the nation's capital.
With $3.6 million in funding from the Albanese government, body corporates will have access to up to $100,000 towards the cost of installing rooftop PV, half through a Commonwealth rebate or grant and half from an interest-free loan from the ACT government's Sustainable Household Scheme.
It is expected that more than 2,100 households will benefit from the new incentive, including from a potential 35 per cent reduction in electricity bills for Canberrans living in apartments.
Mio Dart, Allume's head of technical partnerships, says the company has been "pretty vocal" at all levels of government about the need for these sort of policies in Australia.
"The idea of clean, affordable energy for all has really been part of Allume's story… from day dot," Dart told RenewEconomy on Friday.
"That was one of the really big motivators for our founders to start the company – that it shouldn't just be for the … people who can afford it. It should be for the people who benefit the most from renewable energy."
Allume's technology is also in demand in overseas markets including the US, Europe, England and Wales – and more recently, across the ditch in New Zealand, where it worked with the government to install solar on a social housing apartment block.
Dart says that in Australia, around half of Allume's business is in social housing, and the hope is that this share will increase as more states roll out policies along the lines of the subsidy coming soon to the ACT.
Untimately, Allume and its partners hope the discounted Solar Social Housing Package will combine with the various state government grants to make installing solar on multi-tenanted properties a "no-brainer" for social housing providers.