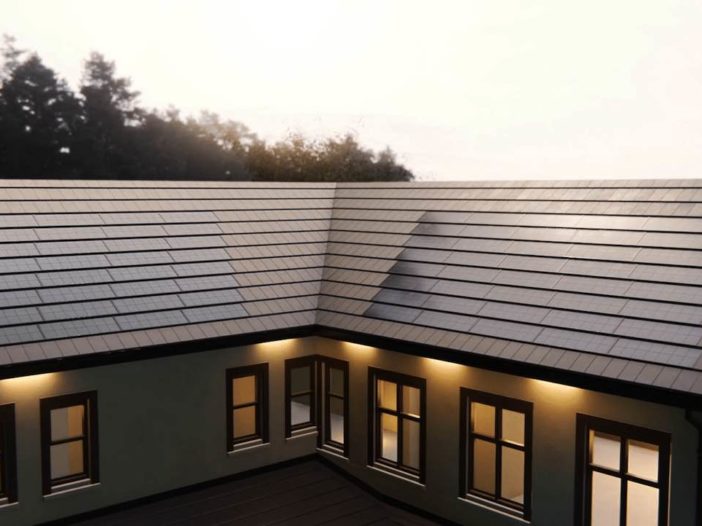 The Australian company behind a newly launched solar roof tile has started work on the installation of a massive 100kW BIPV system on a house in Europe that is believed to be the world's largest, at twice the size of the biggest Tesla solar roofs installed to date.
Volt Solar Tiles, a subsidiary of the busy commercial and large-scale solar company Leeson Group, was officially launched in October of last year from its base in Victoria.
Less than a year later, the company's managing director – and the man behind the solar tile – Peter Leeson is in Türkiye, where the company is working with local partners to deliver a huge 100kW rooftop integrated solar array.
"It is a massive project," Leeson told One Step from Istanbul this week. "And yeah, we believe it is the largest solar tile installation on one home in the world.
"It's a huge, huge home; huge roof. And it's starting to look excellent."
From the back shed to Istanbul
The Australian engineered Volt Solar Tile was launched last year as a niche side business for Leeson Group, whose current pipeline of big projects includes a 440MW solar farm in Victoria.
Unlike Elon Musk's Tesla whole-of-roof solar tile system, the Volt offering has been made to fit alongside both standard flat concrete roof tiles and higher end terracotta tiles. But like the Tesla Solar Roof, installations are limited to when a roof is replaced or newly built.
Otherwise, the Volt is quicker, cheaper and easier to install than Musk's product and the Australian solar tiles generate the equivalent amount of energy as a standard solar panel, at a cost in the ballpark of higher end rooftop solar systems.
In fact, a recent analysis by independent advisory outfit Pottinger found the Volt to be the highest efficiency (19.5% for the higher end Planum product), lowest cost solar tile in the world, Leeson tells One Step's latest edition of the Solar Insiders Podcast this week.
Leeson Group has built the business around two key partnerships, with Bristile Roofing in Australia and Spain-based terracotta roof tile manufacturer La Escandella as its global distributor outside of Australia.
Bristile, which is a part of the ASX-listed building materials group Brickworks, holds a significant market share for new home roofing products in Australia, while La Escandella is expected to open up export opportunities for Volt to 85 countries.
Türkiye can now be ticked off the list.
"We're now in France, Istanbul and most states of Australia," Leeson says.
"It's an absolute thrill to say a product concept that we thought of eight, nine years ago … and this week I was in Turkey installing it on a roof… So it's a little bit of a surreal moment.
"I've got an amazing team back in Australia that is just driving everything that we do….They're incredible. And yeah, we're all just loving the ride. We're absolutely having a ball. It's super exciting."
Part of the ride just this month includes the very first Volt install on Australia's west coast, which Peter's brother Matthew Leeson oversaw last week, as well as the first job in Queensland next week, with the install of a 30kW solar tile roof.
Huge installs like the Turkey job aside, Leeson says the majority of the solar tile systems they install average at about 8kW of solar power capacity, which aligns with the average size of regular panel-based systems.
And while the solar tile business remains niche, Leeson is confident that it will continue to build and will avoid the pitfalls that have stymied the progress of the much more high profile Tesla solar roof.
"I drive a Tesla, I'm a fanboy of Elon Musk, so I'll never talk poorly of him, but … they've done a product of the future, like a lot of what they do.
"Their sort of barrier to market, I believe, is on the installation side – they've designed an entirely new roofing system where we're something that just slips within the existing building industry, construction industry," he says.
"We've signed up with one of Australia's largest builders, they're putting [the Volt] on a number of their display homes, I think about 13 or 14 display homes. So yeah, they're building 2400 homes a year. So that's really exciting for us – that'll be announced in the coming weeks."
A new manufacturing plant on the horizon – on home soil
Also in the works for Leeson Group are plans to boost manufacturing of the solar tiles, including through the establishment of a new Australian plant that could "scale very quickly" to produce 100MW-plus within a couple of years.
"We are currently doing a business case. So we're just bringing in someone from the University of New South Wales support us, we've got my mechanical team on the extrusion frames, and we've got advisors working with us to put it all together," Leeson says.
"We will obviously apply for some grant funding, but we're looking to do most of it with equity and debt and we're hoping to financially close the manufacturing side of things by [the second quarter of] next year, and start building a plant.
"So the interesting thing for us is that we we won't just be providing product into Australia, we're obviously working internationally.
"So that gives us removes a lot of risk around certain markets, the US dollar, and so on, that will allow us to scale very quickly. So we're hoping to be doing plus 100 megawatts within a couple of years," he says.
"That puts us in early 2027, which is super exciting. We'll be a massive exporter of Volt around the world, which will be great for our our country, and then also allow us to keep all our IP in Australia."
Taking on Tesla
Also in the company's sights is the US market, where Leeson's solar tile will compete directly with Musk's. On at least one metric, the Volt has the upper hand.
"The comparison to a Tesla system for a 280 square metre roof with an 8kW Tesla system, you're probably talking about $230,000 us whereas our roof will probably cost you in the States for the same sized system probably about $45,000."